help promote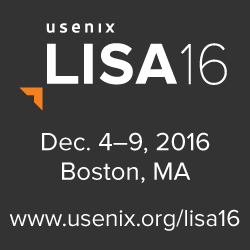 Get more
Help Promote graphics!
usenix conference policies
Sponsors and Exhibitors
Website Maintenance Alert
Due to scheduled maintenance, the USENIX website will not be available on Tuesday, December 17, from 10:00 am to 2:00 pm Pacific Daylight Time (UTC -7). We apologize for the inconvenience.
If you are trying to register for Enigma 2020, please complete your registration before or after this time period.
Sponsors and Exhibitors
Don't miss out! Booth and sponsorship openings are limited! Contact us at sponsorship@usenix.org today to reserve your spot. For more information, you can download the LISA14 prospectus here.
Attendees
Visit the LISA14 Expo to learn the latest in technologies and solutions. Admission is free. The Expo will take place in the Metropolitan Ballroom, Sheraton Seattle Hotel.
Wednesday, November 12, 12:00 pm–7:00 pm
Thursday, November 13, 10:00 am–2:00 pm
Current List of Sponsors and Exhibitors: