help promote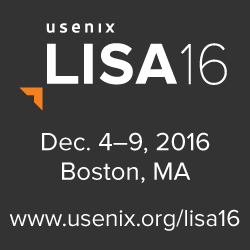 Get more
Help Promote graphics!
usenix conference policies
LISA Lab
Back for 2014! The LISA Lab is a dedicated "hack space" positioned right in the middle of the LISA conference. The Lab is uniquely equipped to allow you to dive deeper into topics you have explored throughout LISA. It's also a great place to collaborate with your fellow attendees to develop, visualize, and test solutions to the challenges you face back at the office.
Hours:
The LISA Lab will be open 24 hours per day beginning Wednesday, November 12 at 9:00 am and ending Friday, November 14 at 5:00 pm.
Office Hours:
Join us in the Lab Wednesday through Friday at specified times to take part in discussions with speakers and authors. We'll have LISA14 speakers on hand to answer your questions and continue the conversations after their talks. For a full list of the Office Hours schedule, click here, and check back often as additional speakers are confirmed.
Develop, prototype, and test using the Lab's provided infrastructure:
Wired high-speed Internet access
Multiple large monitors and a projector
Gigabit switches and network cables
Whiteboards, courtesy of Google, Inc
Linux virtual machines, courtesy of Dreamhost
NetApp storage system, courtesy of Berkeley Communications
On-premesis OpenStack Infrastructure, courtesy of Piston Cloud Computing
Stick around for other Lab content:
Worksheets that walk you through new technology in a hands-on setting
Informal continuations of invited talks and refereed paper presentations
Work-in-progress demos
"Office hours" with experts from around the world
Birds-of-a-Feather (BoF) sessions
LISA Lab Sponsors
Berkeley Communications

Google, Inc

Microsoft Research

OpenStack and Dreamhost
Piston Cloud Computing
VMware
Interested in Sponsoring or Donating Equipment?
Please contact sponsorship@usenix.org
Would you like to provide a Worksheet for the Lab?
Please contact lisa14labs@usenix.org
Questions for the LISA Lab coordinators?
Please contact lisa14labs@usenix.org