help promote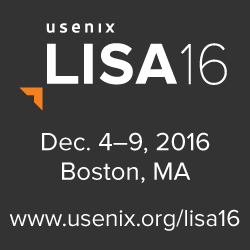 Get more
Help Promote graphics!
usenix conference policies
LISA Lab Schedule
It's common that questions and comments linger after talks, presentations, panels, workshops, and tutorials presented at conferences. Schedules are tight and it's nearly impossible for speakers to address everything on every attendee's mind..
Have no fear; LISA Office Hours are here! In 2014, we will be implementing Office Hours in the LISA Lab so that speakers and attendees can connect after the presentation to get those burning questions answered. Be sure to check out the schedule below to see when your favorite presenter will be hanging out in the Lab and head on over for a chat!
LISA Lab Office Hours
Wednesday, November 12, 2014
TIME
SPEAKER
TALK
OFFICE HOURS TOPICS
11:00 am - 12:30 pm
H. Wade Minter, TeamSnap
"You Code Like a Sysadmin"—Software Development for the Non-Developer

Remote Work Panel
Building and managing remote technology teams, Using improv skills to collaborate, Evolving web apps over years of growth, and Hockey banter and smack-talk
11:00 am - 12:30 pm
 
 
 
2:00 pm - 3:30 pm
George Beech, Stack Exchange, Inc.
The Stack Exchange Infrastructure: How We Scale Our Windows Based Stack at the World's 50th Largest Website Network
Talk follow-up: The Stack Exchange Infrastructure: How We Scale Our Windows Based Stack at the World's 50th Largest Website Network
2:00 pm - 3:30 pm
Dieter Plaetinck, Vimeo
Rethinking Metrics: Metrics 2.0
metrics 2.0 (metrics metadata standardization): monitoring, telemetry, Graphite, InfluxDB, statsd, Graph-Explorer, anomaly detection, feedback loops
4:00 pm - 5:30 pm
Alexandru Bardas, Kansas State University
Compiling Abstract Specifications into Concrete Systems—Bringing Order to the Cloud
ANCORs potential to deploy and maintain an MTD-capable (Moving Target Defense) system and comparison with the newest cloud orchestration tools.
4:00 pm - 5:30 pm
 
 
 
Thursday, November 13, 2014
TIME
SPEAKER
TALK
OFFICE HOURS TOPICS
11:00 am - 12:30 pm
Caskey Dickson, Google, Inc.
while (true) do; How hard can it be to keep running?
Anything monitoring related including the state of monitoring one year after LISA'13 talk "A Working Theory of Monitoring".
11:00 am - 12:30 pm
Hal Stern, Merck & Co
You Have Too Much Data
Talk follow-up: You Have Too Much Data
2:00 pm - 3:30 pm
Paul Krizak, Qualcomm, Inc.
N/A
Network Booting with PXE
2:00 pm - 3:30 pm
Greg Sheremeta
N/A
Hands on with oVirt
4:00 pm - 4:45 pm
S. Alspaugh, University of California, Berkeley and Splunk Inc.
Analyzing Log Analysis: An Empirical Study of User Log Mining
The challenges of collecting and analyzing user interaction data from software systems and the types of applications you can build on top of such data and analyses.
4:00 pm - 5:30 pm