help promote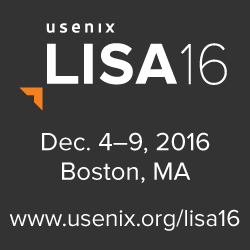 Get more
Help Promote graphics!
usenix conference policies
Rethinking Metrics: Metrics 2.0
Wednesday, November 12, 2014 -

11:00am

-

11:45am
Abstract:
As the amount of metrics, software that produce and process them, and people involved in them continue to increase, we need better ways to organize them, to make them self-describing, and do so in a way that is consistent. Leveraging this, we can then automatically build graphs and dashboards, given a query that represents an information need, even for complicated cases. We can build richer visualizations, alerting and fault detection. This talk will introduce the concepts and related tools, demonstrate possibilities using the Graph-Explorer interface, and lay the groundwork for future work.
Dieter Plaetinck is a Belgian engineer living in NYC. Realizing existing metrics solutions didn't cut it while working on complicated backends and infrastructure at Vimeo, he set out to make the experience smoother via projects like the Graph-Explorer metrics dashboard and statsdaemon, a metrics aggregator. He also works on a bunch of other open source projects like anthracite, an event logging app, and uzbl, a minimalist web browser for control freaks. He maintains the metrics 2.0 spec (metrics20.org) and runs a website dedicated to proper use of standardized units and prefixes. He tweets and blogs (sometimes).
Open Access Media
USENIX is committed to Open Access to the research presented at our events. Papers and proceedings are freely available to everyone once the event begins. Any video, audio, and/or slides that are posted after the event are also free and open to everyone. Support USENIX and our commitment to Open Access.
BibTeX
@conference {207883,
author = {Dieter Plaetinck},
title = {Rethinking Metrics: Metrics 2.0},
year = {2014},
address = {Seattle, WA},
publisher = {USENIX Association},
month = nov
}

Presentation Video
Presentation Audio