help promote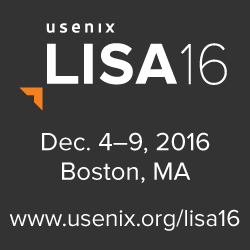 Get more
Help Promote graphics!
usenix conference policies
Conference Organizers
Program Chair
Nicole Forsgren Velasquez, Utah State University
Content Coordinators
Amy Rich, Mozilla Corporation
Research Committee Co-Chairs
Kyrre Begnum, Oslo University College of Applied Sciences
Marc Chiarini, MarkLogic Corporation
Research Committee
Theophilus Benson, Duke University
Adam Oliner, University of California, Berkeley and Kuro Labs
Invited Talks Coordinators
Patrick Cable, MIT Lincoln Laboratory
Doug Hughes, D. E. Shaw Research, LLC.
Matthew Simmons, Northeastern University
Invited Talks Committee
John Looney, Google, Inc.
Branson Matheson, Blackphone
Gareth Rushgrove, Puppet Labs
Jeffrey Snover, Microsoft
John Willis, Stateless Networks
Lightning Talks Coordinator
Lee Damon, University of Washington
Workshops Coordinator
Cory Lueninghoener, Los Alamos National Laboratory
USENIX Training Program Manager
Rik Farrow, Security Consultant
Tutorial Coordinators
Thomas A. Limoncelli, Stack Exchange, Inc.
Matthew Simmons, Northeastern University
LISA Lab Chair
Paul Krizak, Qualcomm, Inc.
LISA Lab Coordinator
Chris McEniry, Sony Network Entertainment
LISA Build Coordinators
Branson Matheson, Blackphone
Brett Thorson, Cranial Thunder Solutions
USENIX Liaisons
David Blank-Edelman, Northeastern University College of Computer and Information Science
Local Chair
Lee Damon, University of Washington