help promote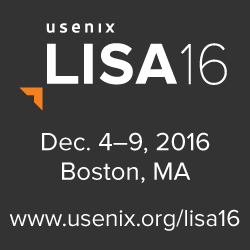 Get more
Help Promote graphics!
usenix conference policies
Sponsorship and Exhibiting Opportunities
2013 LISA Attendees by Title
System Administrator
37%
Engineer/SRE
21%
Technical Manager
9%
Developer/Architect/Programmer
6%
CEO/CTO/Director
6%
Technical Staff/Researcher
5%
Graduate/PhD Student
4%
Consultant
3%
Professor/Academic
2%
Systems/Programmer Analyst
2%
Community/Product Manager
2%
Other (Recruiter, Event Staff)
2%
Press/Editorial
1%
Exhibit at LISA14!
Do not miss this chance for face to face time with hundreds of IT operations professionals who want to see the latest and greatest technologies and products. Who attends LISA? SysAdmins, Engineers and SRE's, Developers, Architects, Programmers, technical managers, and research staff from large enterprise, academic institutions, government, and other large sites. In other words, the people you need to convince that your company offers the best solutions in this competitive market. Exhibit at the LISA Expo and:
Present your products and services to a prequalified audience that heavily influences purchasing decisions
Expose your brand to the LISA community
Feature your solutions and get LISA attendees excited about your company
Introduce new releases and get invaluable feedback from the smartest users in the industry
Expected attendance of over 1,000 systems administrators, network administrators, analysts, developers, and engineers. We drive traffic to your booth with the vendor passport raffle, show floor happy hour, breaks and lunch catering on the show floor, and free Expo passes to the community.
The show floor sold out for the last three years straight, so reserve your space now if you know you will be exhibiting by contacting sponsorship@usenix.org. Space is limited. For detailed information on available packages, please request the LISA15 prospectus. You can download the Expo floor plan here.   Please contact sponsorship@usenix.org for other opportunities to reach LISA attendees!
Sponsor LISA14!
Support the LISA community, network, and promote your brand.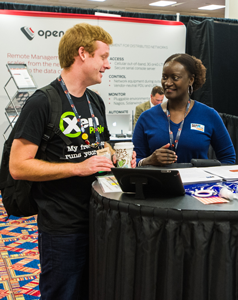 Lunch sponsor with opportunity to address attendees: Host a lunch-n-learn during the Friday lunch.
Vendor Track talks: 45- or 90-minute talk during daytime program (sold out in 2014)
Reception sponsorship at the Seattle EMP: Host the Fantasy Gallery, Horror Film Gallery, or brand the OnStage rockstar experience with your logo
Happy Hour sponsor in the vendor Expo: Key promotional opportunity, including slideshow and chance to address the attendees
Evening Vendor Birds-of-a-Feather: Share a beer with focused groups of attendees interested in your company, host a Q&A, and get recruiting leads 
LISA Lab and LISA Build branding opportunity: Get LISA attendees to employ your hardware, explore software solutions, and experiment on your machines
LISA Open Access: Support our open access policy and permanently embed your linkable logo in the LISA video archive!
Other opportunities are available - just ask! Contact sponsorship@usenix.org for details.