help promote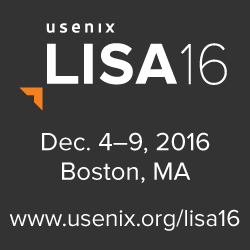 Get more
Help Promote graphics!
usenix conference policies
Why Attend?
Top Five Reasons to Attend LISA14
Face Time with Your Community and Industry Leaders
Network and compare notes with peers and luminaries in the "Hallway Track" and evening activities.
Top-Notch Training
Highly respected experts uncover new information and skills you can take back to work.
Invited Talks and Panels
Key members of the community discuss timely and important topics.
You'll Hear It Here First
Check out the latest research in the paper presentations and poster sessions.
Learn About All of Your Options
Solutions that work for other organizations may not work for you. LISA itself is vendor-neutral, so visit the Vendor Expo and Vendor Talks to learn about the best solutions for your company.
On the Fence?
Learn why other attendees have found it to be such a valuable experience.
Attention Managers: Why You Should Send Your Employees to LISA14
Help your employees become more effective! Geared towards those working in IT operations and engineering, LISA14 will give attendees the knowledge to keep your organization current and secure, as well as limit downtime.
With 22 full- and half-day tutorials, LISA14 provides an unparalleled opportunity to gain access to, and learn from, the most respected leaders and researchers in the field. These intensive tutorials cover a multitude of topics, including culture, DevOps, Monitoring and Metrics, Security, and Systems Engineering.
Combine the training with the Conference Program, which includes Invited Talks, Panels, Mini-Tutorials, and research presentations, and learn about the newest tools to keep your company running efficiently. Additionally, the poster sessions, Thursday evening reception, and Birds-of-a-Feather sessions provide your staff with a chance to network and collaborate with peers and industry leaders to gain that all-important "insider" IT knowledge. Keeping up with technology can be costly and time-consuming: take full advantage of this opportunity to have your staff learn from the top researchers, practitioners, and authors in a vendor-neutral manner.