help promote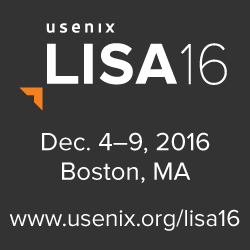 Get more
Help Promote graphics!
usenix conference policies
Remote Work Panel
Thursday, November 13, 2014 -

11:00am

-

12:30pm
Moderator: Doug Hughes, D. E. Shaw Research, LLC.
Panelists: Mark Imbriaco, DigitalOcean; Bill Lincoln, Pythian; H. Wade Minter, Adwerx; Michael Rembetsy, Etsy
Abstract:
This panel will focus on how companies big and small (check) handle the remote workers in Ops roles.
Doug Hughes graduated from Penn State University with a BE in Computer Engineering in 1991. He has worked for GE Aerospace at the network operations center, worked six years at Auburn University College of Engineering managing the infrastructure for the college of engineering, and spent six years at Global Crossing supporting the global IP infrastructure. Currently he works at D. E. Shaw Research, LLC where he leads a multi-national team of seven System Administrators covering all aspects of data, networking, and clustering infrastructure.
Mark Imbriaco has been in the Internet industry for over 20 years, working in roles running the gamut of software development and operations. He's worked in infrastructure for companies like America Online, LivingSocial, 37signals, Heroku, and GitHub. Currently, he serves as the VP of Technical Operations at DigitalOcean managing operations for their fast growing IaaS cloud.
Bill Lincoln is a Service Delivery Manager & Business Advocate at Pythian, a worldwide organization providing Managed Services and Project Consulting to companies whose data availability, reliability, and integrity are critical to their business. Pythian targets the top 5% of talent in the world, as a result 2/3 of our workforce works remote/from home.
H. Wade Minter is the Chief Technology Officer at TeamSnap, a company that makes life easier for people who participate in youth and adult recreational sports. He is also the ring announcer for a professional wrestling federation. The two roles may or may not be related.

Michael Rembetsy has worked in technical operations for more than 10 years in the web, healthcare, online media and financial industries. He started out in the help desk area, but moved to operations shortly after starting, and has been building and running data center and operations teams ever since. In previous jobs he worked for NBC Universal, iVillage and McDonalds online game, Monopoly. Currently, Michael is the VP, Technical Operations for Etsy.
Open Access Media
USENIX is committed to Open Access to the research presented at our events. Papers and proceedings are freely available to everyone once the event begins. Any video, audio, and/or slides that are posted after the event are also free and open to everyone. Support USENIX and our commitment to Open Access.
BibTeX
@conference {209067,
author = {Doug Hughes and Mark Imbriaco and Bill Lincoln and H. Wade Minter and Michael Rembetsy},
title = {Remote Work Panel},
year = {2014},
address = {Seattle, WA},
publisher = {USENIX Association},
month = nov
}

Presentation Video
Presentation Audio