help promote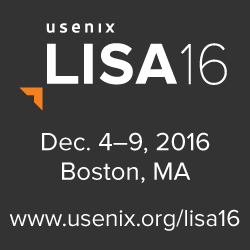 Get more
Help Promote graphics!
usenix conference policies
"You Code Like a Sysadmin"—Software Development for the Non-Developer
Wednesday, November 12, 2014 -

11:00am

-

11:45am
Abstract:
The software development community is filled with brilliant, talented people who thrive on the latest programming methodologies, breathe agile, live scrum, and scoff at anything with less than 100% test coverage. But what if you're just a nerd with an idea and a little programming knowledge? Is there a place for you?
In this talk, you'll learn how a sysadmin turned into a developer and helped build a multimillion-dollar company, while doing everything wrong. Feel free to share your stories, and we'll move beyond the stigma of coding like a sysadmin!
H. Wade Minter is the Chief Technology Officer at TeamSnap, a company that makes life easier for people who participate in youth and adult recreational sports. He is also the ring announcer for a professional wrestling federation. The two roles may or may not be related.
Open Access Media
USENIX is committed to Open Access to the research presented at our events. Papers and proceedings are freely available to everyone once the event begins. Any video, audio, and/or slides that are posted after the event are also free and open to everyone. Support USENIX and our commitment to Open Access.
BibTeX
@conference {209025,
author = {H. Wade Minter},
title = {"You Code Like a {Sysadmin"{\textemdash}Software} Development for the {Non-Developer}},
year = {2014},
address = {Seattle, WA},
publisher = {USENIX Association},
month = nov,
}

Presentation Video
Presentation Audio