help promote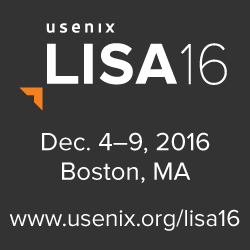 Get more
Help Promote graphics!
usenix conference policies
Embracing Checklists as a Tool for Improving Human Reliability
Friday, November 14, 2014 -

9:00am

-

9:45am
Chris Stankaitis, The Pythian Group
Abstract:
A pilot cannot fly a plane, and a surgeon cannot cut into a person without first going through a checklist. These are some of the most well-educated and highly-skilled people in the world and they have embraced the value of checklists as a tool that can dramatically reduce human error. This talk will focus on the value and the (at time) controversy of checklist adoption in IT.
Chris Stankaitis is a Team Lead for the Enterprise Infrastructure Services group at Pythian, an organization providing Managed Services and Project Consulting to companies whose data availability, reliability and integrity is critical to their business.
Chris has spent the past 18 years in the systems administration field with primary goal and focus on designing and building systems with the highest reliability, availability, and scalability. His experience spans many industries from ISP/Telco, to financial to social media.
In his current role, Chris manages a team of Enterprise Infrastructure Consultants, providing leadership and direction to his team, and the many clients he is privileged to work with everyday.
Open Access Media
USENIX is committed to Open Access to the research presented at our events. Papers and proceedings are freely available to everyone once the event begins. Any video, audio, and/or slides that are posted after the event are also free and open to everyone. Support USENIX and our commitment to Open Access.
BibTeX
@conference {209061,
author = {Chris Stankaitis},
title = {Embracing Checklists as a Tool for Improving Human Reliability},
year = {2014},
address = {Seattle, WA},
publisher = {USENIX Association},
month = nov
}

Presentation Video
Presentation Audio