help promote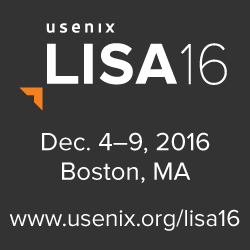 Get more
Help Promote graphics!
usenix conference policies
Symantec LISA14 Exhibitor
Sponsor Description:
Symantec, is the world-class leader in security, storage and system management solutions, and has evolved to become one of the largest and most cutting-edge security companies across the globe. We make the world a safer place by helping people, businesses, and governments protect, manage and secure their information in an insecure world. From securing a consumer's online identity and interactions to protecting an organization's mission-critical data, Symantec offers the leading and best-of-breed security, backup and recovery, data availability and data loss prevention products.

Since its inception in 1982, Symantec has grown into a Fortune 500 company through a combination of internal development, strategic acquisition and partnering with industry leaders. At every step in the company's growth we have expanded both our technological expertise and our understanding of customer needs. Our ability to successfully integrate internally developed products with technologies we acquire and build has kept Symantec at the front of its industry and enabled us to provide best-of-breed solutions for millions of corporate and individual customers in more than 55 countries. It is what has earned the company almost every major technology award and top-tier rankings from industry analysts.
Color Logo: