general information
Early Bird Registration Deadline: March 16, 2016

SREcon16 is SOLD OUT.
No walkup registrations will be accepted.
Venue:
Hyatt Regency Santa Clara
5101 Great America Pkwy
Santa Clara, CA 95054
Rooms at the Hyatt Regency Santa Clara are sold out.
Rooms available at:
Biltmore Hotel & Suites
2151 Laurelwood Road
Santa Clara, CA 95054

Book your room for $225 single or double plus tax or call (800) 255-9925 or (408) 988-8411 and reference USENIX Association or Billing ID #32992. Room rate includes WiFi and complimentary shuttle to the Hyatt Regency Santa Clara.
Questions?
About SREcon?
About the Call for Participation?
About the Hotel/Registration?
About Sponsorship?
help promote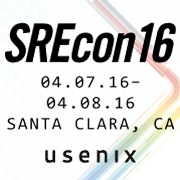 twitter
usenix conference policies
Conference Program
Website Maintenance Alert
Due to scheduled maintenance on Wednesday, October 16, from 10:30 am to 4:30 pm Pacific Daylight Time (UTC -7), parts of the USENIX website (e.g., conference registration, user account changes) may not be available. We apologize for the inconvenience.
If you are trying to register for LISA19, please complete your registration before or after this time period.
All sessions will take place at the Hyatt Regency Santa Clara.
Download the Attendee List (Conference Attendees Only)
SREcon16 Attendee List (PDF)
Thursday, April 7, 2016
7:30 am–5:00 pm

Badge Pickup

Santa Clara Ballroom Foyer

8:00 am–9:00 am

Continental Breakfast

Mezzanine East/West

9:00 am–10:00 am

10:00 am–10:30 am

Break with Refreshments, Sponsored by PagerDuty

Mezzanine East/West
11:25 am–11:30 am

Short Break
12:25 pm–1:30 pm

Conference Luncheon, Sponsored by SignalFx

Terra Courtyard
2:25 pm–2:30 pm

Short Break
3:25 pm–4:00 pm

Break with Refreshments, Sponsored by Dropbox

Mezzanine East/West
6:00 pm–8:00 pm

Reception, Sponsored by Google

Terra Courtyard
Friday, April 8, 2016
8:00 am–noon

Badge Pickup

Santa Clara Ballroom Foyer

8:00 am–9:00 am

Continental Breakfast, Sponsored by Baidu

Mezzanine East/West

9:00 am–10:00 am

10:00 am–10:30 am

Break with Refreshments, Sponsored by Bloomberg

Mezzanine East/West
11:25 am–11:30 am

Short Break
12:25 pm–1:30 pm

Conference Luncheon, Sponsored by Datadog

Grand Ballroom EF
2:25 pm–2:30 pm

Short Break
3:25 pm–4:00 pm

Break with Refreshments, Sponsored by Bloomberg

Mezzanine East/West
5:00 pm–6:00 pm

Happy Hour, Sponsored by LinkedIn

Mezzanine East/West