general information
Early Bird Registration Deadline: March 16, 2016

SREcon16 is SOLD OUT.
No walkup registrations will be accepted.
Venue:
Hyatt Regency Santa Clara
5101 Great America Pkwy
Santa Clara, CA 95054
Rooms at the Hyatt Regency Santa Clara are sold out.
Rooms available at:
Biltmore Hotel & Suites
2151 Laurelwood Road
Santa Clara, CA 95054

Book your room for $225 single or double plus tax or call (800) 255-9925 or (408) 988-8411 and reference USENIX Association or Billing ID #32992. Room rate includes WiFi and complimentary shuttle to the Hyatt Regency Santa Clara.
Questions?
About SREcon?
About the Call for Participation?
About the Hotel/Registration?
About Sponsorship?
help promote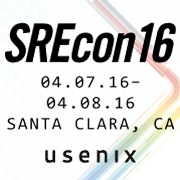 twitter
usenix conference policies
Managing Grumpy: Embracing Diversity to Build Stronger Teams
Abstract:
An organization performs best when it is made up of a diverse group of people, opinions and ideas from a variety of locations and backgrounds. As a manager, your job is to balance this diversity to support and grow a strong team poised for individual and organizational success. Learning how to best motivate a group of disparate and distinct people with unique talents best prepares you to overcome unforeseen situations and obstacles as you scale your operations organization.
At Fastly, we've built a world-class team of ops experts from many backgrounds and timezones around the world, amidst immense growth and with operational pressure. This talk will cover strategies for overcoming individual and organizational management challenges in a globally diverse environment. We'll discuss strategies for moving your team toward a shared positive future amidst friction in a fast paced 24x7 operational environment. We'll explore different people management challenges and discuss methods to work through the grumpiest admin. This talk will leave you thinking of new methods for focusing your efforts on total team strength and looking where you want to go instead of where you're afraid of heading.
Open Access Media
USENIX is committed to Open Access to the research presented at our events. Papers and proceedings are freely available to everyone once the event begins. Any video, audio, and/or slides that are posted after the event are also free and open to everyone. Support USENIX and our commitment to Open Access.
BibTeX
@conference {208610,
author = {Lisa Phillips},
title = {Managing Grumpy: Embracing Diversity to Build Stronger Teams},
year = {2016},
address = {Santa Clara, CA},
publisher = {USENIX Association},
month = apr,
}

Presentation Video
Presentation Audio