general information
Early Bird Registration Deadline: March 16, 2016

SREcon16 is SOLD OUT.
No walkup registrations will be accepted.
Venue:
Hyatt Regency Santa Clara
5101 Great America Pkwy
Santa Clara, CA 95054
Rooms at the Hyatt Regency Santa Clara are sold out.
Rooms available at:
Biltmore Hotel & Suites
2151 Laurelwood Road
Santa Clara, CA 95054

Book your room for $225 single or double plus tax or call (800) 255-9925 or (408) 988-8411 and reference USENIX Association or Billing ID #32992. Room rate includes WiFi and complimentary shuttle to the Hyatt Regency Santa Clara.
Questions?
About SREcon?
About the Call for Participation?
About the Hotel/Registration?
About Sponsorship?
help promote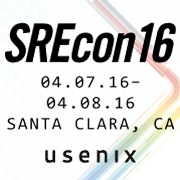 twitter
usenix conference policies
Call for Participation
Sponsored by USENIX, the Advanced Computing Systems Association
SREcon16 will take place on April 7-8, 2016 in Santa Clara, CA.
Important Dates
Proposals for talks and panels due: Monday, February 8, 2016, 11:59 pm PST
Proposals for lightning talks and posters due: Monday, February 15, 2016, 11:59 pm PST

Deadline extended!

Notification to presenters: Friday, March 4, 2016
Conference Organizers
Program Co-Chairs
Melita Mihaljevic, Facebook
USENIX Liaisons
David N. Blank-Edelman, Apcera
Overview
Last March, we held the second SREcon, a conference focused on site reliability and production systems at scale, with 370 attendees. The demand for SREcon16 is high, and we are looking for experts in the site reliability space to drive another outstanding conference.
SREcon16 will take place on April 7–8, 2016, in Santa Clara, CA. Last year, we added a second day to cover more subjects; based on last year's success, we've decided to keep the same two-day format. We're excited to hear your proposals so that we can have a great conference! Save the date and come join us for two days of highly technical subjects around site reliability and production at scale.
We are looking for proposals in the following formats:
Talks: 20 or 50-minute talks with an additional 5 minutes for Q&A
Lightning talks: 5–10 minute talks
Panels: Moderator-led groups of 3–5 experts answering moderator and audience questions on a particular topic
If you have a suggestion or request for a particular speaker you really would like to see at the conference, feel free to drop us a message at srecon16chairs@usenix.org.
We will accept proposals until February 8, 2016 via the web form. We'll evaluate those and get back to you by March 4, 2016.
Suggested Topics
Improving TTD and TTR

Anomaly Detection
Game Day/Simulations
Automated Remediation
Automated Upgrades
Fast Path Root Cause Analysis

Web Scale Reliability

Global Traffic Failover
Avoiding Global/Cascading Failures
Reliability in the Cloud

Culture and Organization

Diversity in SRE
Distributed vs. Centralized SRE
SRE Career Paths
DevOps vs. SRE
Managing SRE teams
Surviving On-Calls/Preventing Operational Overload

SRE Umbrella Topics

Security
Injecting Failure
Containers
Own Infrastructure or Outsource
SQL vs. NoSQL
Open Source SRE Tools
We are looking forward to seeing you once more! Follow @SREcon on Twitter for the latest conference news.