general information
Early Bird Registration Deadline: March 16, 2016

SREcon16 is SOLD OUT.
No walkup registrations will be accepted.
Venue:
Hyatt Regency Santa Clara
5101 Great America Pkwy
Santa Clara, CA 95054
Rooms at the Hyatt Regency Santa Clara are sold out.
Rooms available at:
Biltmore Hotel & Suites
2151 Laurelwood Road
Santa Clara, CA 95054

Book your room for $225 single or double plus tax or call (800) 255-9925 or (408) 988-8411 and reference USENIX Association or Billing ID #32992. Room rate includes WiFi and complimentary shuttle to the Hyatt Regency Santa Clara.
Questions?
About SREcon?
About the Call for Participation?
About the Hotel/Registration?
About Sponsorship?
help promote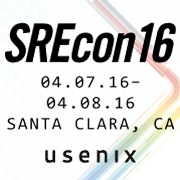 twitter
usenix conference policies
SRE at a Start-Up: Lessons from LinkedIn
Craig Sebenik, Matterport
Abstract:
Many large companies have strong SRE teams that are a great example to follow. But, applying the techniques seen at larger companies to a smaller company has many challenges. Bringing about change is a combination of culture shifts as well as technical challenges. In this talk, I will discuss many of the concepts that worked at LinkedIn and how I have gradually implemented them over the past year and a half at a start-up.
Craig has been a researcher, a software developer, a sysadmin, and most recently, an SRE. He has worked for Fortune 500 companies as well as small startups. He has been programming since grade school and you will find him in front of a computer as often as possible. While he worked for a couple of startups doing SRE-type work, he learned a great deal from his (nearly) four years at LinkedIn. He is currently working at Matterport, a startup working on 3D technology.
He spent a couple years at Le Cordon Bleu in Sydney and another year studying Italian cuisine in Florence (Including working in the kitchen of a restaurant). He prefers pastry over cuisine...but is happy to talk about anything related to food.
Open Access Media
USENIX is committed to Open Access to the research presented at our events. Papers and proceedings are freely available to everyone once the event begins. Any video, audio, and/or slides that are posted after the event are also free and open to everyone. Support USENIX and our commitment to Open Access.
BibTeX
@conference {208573,
author = {Craig Sebenik},
title = {{SRE} at a {Start-Up}: Lessons from {LinkedIn}},
year = {2016},
address = {Santa Clara, CA},
publisher = {USENIX Association},
month = apr,
}

Presentation Video
Presentation Audio