general information
Early Bird Registration Deadline: March 16, 2016

SREcon16 is SOLD OUT.
No walkup registrations will be accepted.
Venue:
Hyatt Regency Santa Clara
5101 Great America Pkwy
Santa Clara, CA 95054
Rooms at the Hyatt Regency Santa Clara are sold out.
Rooms available at:
Biltmore Hotel & Suites
2151 Laurelwood Road
Santa Clara, CA 95054

Book your room for $225 single or double plus tax or call (800) 255-9925 or (408) 988-8411 and reference USENIX Association or Billing ID #32992. Room rate includes WiFi and complimentary shuttle to the Hyatt Regency Santa Clara.
Questions?
About SREcon?
About the Call for Participation?
About the Hotel/Registration?
About Sponsorship?
help promote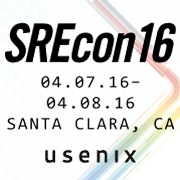 twitter
usenix conference policies
Building Reliable Social Infrastructure for Google
Abstract:
If you were evaluating a system design for anti-patterns, you might look for the following characteristics:
significant amounts of global, mutable data with a very high update rate requiring ACID semantics
serve application data with no natural sharding (i.e. partitioning) dimension
data storage-level hot-spotting
interactive latency requirements for a global base of users
These undesirable characteristics in your system, however, are precisely the desirable characteristics of your application! They form the basis of critical features needed for any successful Social network, and many socially-enabled applications.
Come and hear about the tradeoffs explored and design idioms we discovered as we built Google's Social infrastructure.
Marc Alvidrez is a Senior Staff Site Reliability Engineer with Google. He joined the company in 2004, and starting as an early SRE he has led a variety of teams responsible for both infrastructure and major user-facing services. These have included the first team responsible for Google File System (GFS), and the teams responsible for Google's Display and AdSense advertising serving systems, Google+ and Google Photos. Prior to Google he held systems engineering roles at Vodafone and Internet startup Topica, where he was the Director of Operations.
Open Access Media
USENIX is committed to Open Access to the research presented at our events. Papers and proceedings are freely available to everyone once the event begins. Any video, audio, and/or slides that are posted after the event are also free and open to everyone. Support USENIX and our commitment to Open Access.
BibTeX
@conference {208608,
author = {Marc Alvidrez},
title = {Building Reliable Social Infrastructure for Google},
year = {2016},
address = {Santa Clara, CA},
publisher = {USENIX Association},
month = apr,
}

Presentation Video
Presentation Audio