general information
Early Bird Registration Deadline: March 16, 2016

SREcon16 is SOLD OUT.
No walkup registrations will be accepted.
Venue:
Hyatt Regency Santa Clara
5101 Great America Pkwy
Santa Clara, CA 95054
Rooms at the Hyatt Regency Santa Clara are sold out.
Rooms available at:
Biltmore Hotel & Suites
2151 Laurelwood Road
Santa Clara, CA 95054

Book your room for $225 single or double plus tax or call (800) 255-9925 or (408) 988-8411 and reference USENIX Association or Billing ID #32992. Room rate includes WiFi and complimentary shuttle to the Hyatt Regency Santa Clara.
Questions?
About SREcon?
About the Call for Participation?
About the Hotel/Registration?
About Sponsorship?
help promote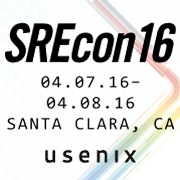 twitter
usenix conference policies
Shopping Event Reliability
Abstract:
In China, shopping event is a most important marketing strategy of O2O, which is one of the fastest developing segments in the Chinese e-commerce market. There are shopping events almost every month in China, and the two biggest may be Singles Day (China's Black Friday) and Chinese New Year. It is very challenging that SRE team keeps the website and mobile app high availability. The first challenge is that the traffic flow is much more than usual, and the second is that many different engineers and change events are involved in shopping event. Latency and data consistency are also important for tens of millions of online customers in the shopping day.
In this talk, we will share our systematic approach to solve the above challenges about Shopping Event Reliability (SER), including:
1. Traffic Control: Overload Protection & Graceful Degradation
2. Capacity Management: Automated Measurement & Elastic Container Infrastructure
3. Monitoring and Recovery: Event-Flow Graph & Intelligent Callback
4. Remote Disaster Recover System: Latency and Data consistency
5. Process Management: Standardization Exercise
Open Access Media
USENIX is committed to Open Access to the research presented at our events. Papers and proceedings are freely available to everyone once the event begins. Any video, audio, and/or slides that are posted after the event are also free and open to everyone. Support USENIX and our commitment to Open Access.
BibTeX
@conference {208596,
author = {Jun Liu},
title = {Shopping Event Reliability},
year = {2016},
address = {Santa Clara, CA},
publisher = {USENIX Association},
month = apr
}

Presentation Video
Presentation Audio