general information
Early Bird Registration Deadline: March 16, 2016

SREcon16 is SOLD OUT.
No walkup registrations will be accepted.
Venue:
Hyatt Regency Santa Clara
5101 Great America Pkwy
Santa Clara, CA 95054
Rooms at the Hyatt Regency Santa Clara are sold out.
Rooms available at:
Biltmore Hotel & Suites
2151 Laurelwood Road
Santa Clara, CA 95054

Book your room for $225 single or double plus tax or call (800) 255-9925 or (408) 988-8411 and reference USENIX Association or Billing ID #32992. Room rate includes WiFi and complimentary shuttle to the Hyatt Regency Santa Clara.
Questions?
About SREcon?
About the Call for Participation?
About the Hotel/Registration?
About Sponsorship?
help promote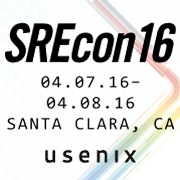 twitter
usenix conference policies
SREs + Software Engineers: Making It Work
Abstract:
Just got sent a binary to deploy - by email? Been told 'it works on my machine'? Or that monitoring isn't a big deal because 'I'll notice if it goes down'?
As companies and infrastructure scale, the need for individuals with skills outside of those taught in typical CS programmes becomes more apparent. However, this doesn't replace the roles of more traditional software engineers. As one of these engineers who have worked with SREs and done SRE work ourselves, I discuss the ways in which SREs can be integrated into a broader engineering org. From complete role separation to Jack and Jills of all trades and finally to Facebook's more nuanced approach, I look at why this integration is important and the ways in which it can make all involved more effective.
Nina is currently working as a software engineer on Facebook's deployment infrastructure. There she gets to use the words "container," "scale," and "failure domain" at least five or six times a day. Before that she worked on AWS EC2 in sunny Cape Town.
Open Access Media
USENIX is committed to Open Access to the research presented at our events. Papers and proceedings are freely available to everyone once the event begins. Any video, audio, and/or slides that are posted after the event are also free and open to everyone. Support USENIX and our commitment to Open Access.
BibTeX
@conference {208607,
author = {Nina Schiff},
title = {{SREs} + Software Engineers: Making It Work},
year = {2016},
address = {Santa Clara, CA},
publisher = {USENIX Association},
month = apr,
}

Presentation Video
Presentation Audio