general information
Early Bird Registration Deadline: March 16, 2016

SREcon16 is SOLD OUT.
No walkup registrations will be accepted.
Venue:
Hyatt Regency Santa Clara
5101 Great America Pkwy
Santa Clara, CA 95054
Rooms at the Hyatt Regency Santa Clara are sold out.
Rooms available at:
Biltmore Hotel & Suites
2151 Laurelwood Road
Santa Clara, CA 95054

Book your room for $225 single or double plus tax or call (800) 255-9925 or (408) 988-8411 and reference USENIX Association or Billing ID #32992. Room rate includes WiFi and complimentary shuttle to the Hyatt Regency Santa Clara.
Questions?
About SREcon?
About the Call for Participation?
About the Hotel/Registration?
About Sponsorship?
help promote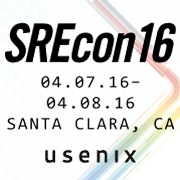 twitter
usenix conference policies
Netflix: 190 Countries and 5 CORE SREs
Abstract:
How does Netflix scale SRE? How do we manage over 70 million customers around the world without a 24/7 operations center? With tens of thousands of Linux instances in a distributed system architecture, and thousands of daily production changes, it's an environment that's both challenging and exciting. Netflix had to change how our teams run applications in production and adopt a true DevOps culture. We also learned how to give teams the tools they need to be successful.
In this talk you'll hear from one of Netflix's CORE SREs about the challenges we've learned from and tools we use to keep everything running. Throughout the talk we'll discuss how Netflix views the role of the SRE and how it differs from the traditional Systems Administrator role. It also explains why freedom and responsibility are key, trust is required, and chaos is your friend.
Jonah Horowitz is a Senior Site Reliability Architect at Netflix with over 20 years of experience keeping servers and sites online. He started with a home-built BBS and has worked at both large and small tech companies including Walmart.com, Looksmart, and Quantcast.
Open Access Media
USENIX is committed to Open Access to the research presented at our events. Papers and proceedings are freely available to everyone once the event begins. Any video, audio, and/or slides that are posted after the event are also free and open to everyone. Support USENIX and our commitment to Open Access.
BibTeX
@conference {208609,
author = {Jonah Horowitz},
title = {Netflix: 190 Countries and 5 {CORE} {SREs}},
year = {2016},
address = {Santa Clara, CA},
publisher = {USENIX Association},
month = apr
}

Presentation Video
Presentation Audio