general information
Early Bird Registration Deadline: March 16, 2016

SREcon16 is SOLD OUT.
No walkup registrations will be accepted.
Venue:
Hyatt Regency Santa Clara
5101 Great America Pkwy
Santa Clara, CA 95054
Rooms at the Hyatt Regency Santa Clara are sold out.
Rooms available at:
Biltmore Hotel & Suites
2151 Laurelwood Road
Santa Clara, CA 95054

Book your room for $225 single or double plus tax or call (800) 255-9925 or (408) 988-8411 and reference USENIX Association or Billing ID #32992. Room rate includes WiFi and complimentary shuttle to the Hyatt Regency Santa Clara.
Questions?
About SREcon?
About the Call for Participation?
About the Hotel/Registration?
About Sponsorship?
help promote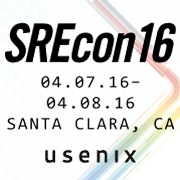 twitter
usenix conference policies
Shaping Reality to Shape Outcomes: Making SRE Work with Uber Growth
Tom Croucher, Uber Technologies, Inc.
Abstract:
In an organization growing as rapidly as Uber (when every week engineers add 10 new services to the stack) it's impossible to know every engineer. How do Uber SRE ensure our systems are reliable?
In this talk, I will explain how Uber SRE focused on shaping the reality that the engineering teams operate in to create a culture of reliability. Given a specific set of constraints engineers are smart and solve problems, so we made one of the primary roles of the SRE team to create a reality that made reliability part of the DNA of services, not just an add-on.
Over times instead of hoping engineers would solve a problem that almost never occurred (failure) to ones that were right in front of them we were able to change the behavior of teams we didn't even interact with. SRE organizations are in danger of creating an adversarial relationship with engineering teams by punishing them for failures in their reliability or burdening them with "additional requirements." By reframing the reality we created an organizational baseline that means our SRE team is helping engineering teams meet their goals.
This talk will look at a little of the history of SRE at Uber, what we are doing today, and our future work. Some of the major initiatives we have conducted that have changed reality for the wider engineering population at Uber include: bootstrapping our own Datacenters in just a few months, changing our systems to actively serving traffic from multiple regions concurrently, and the many kinds of testing: datacenter failure, chaos simulations, and load testing. The technology we have built is important, but more important is making reliability our DNA.
Open Access Media
USENIX is committed to Open Access to the research presented at our events. Papers and proceedings are freely available to everyone once the event begins. Any video, audio, and/or slides that are posted after the event are also free and open to everyone. Support USENIX and our commitment to Open Access.
BibTeX
@conference {208583,
author = {Tom Croucher},
title = {Shaping Reality to Shape Outcomes: Making {SRE} Work with Uber Growth},
year = {2016},
address = {Santa Clara, CA},
publisher = {USENIX Association},
month = apr
}

Presentation Video
Presentation Audio