general information
Early Bird Registration Deadline: March 16, 2016

SREcon16 is SOLD OUT.
No walkup registrations will be accepted.
Venue:
Hyatt Regency Santa Clara
5101 Great America Pkwy
Santa Clara, CA 95054
Rooms at the Hyatt Regency Santa Clara are sold out.
Rooms available at:
Biltmore Hotel & Suites
2151 Laurelwood Road
Santa Clara, CA 95054

Book your room for $225 single or double plus tax or call (800) 255-9925 or (408) 988-8411 and reference USENIX Association or Billing ID #32992. Room rate includes WiFi and complimentary shuttle to the Hyatt Regency Santa Clara.
Questions?
About SREcon?
About the Call for Participation?
About the Hotel/Registration?
About Sponsorship?
help promote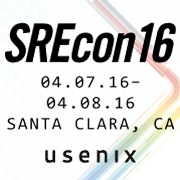 twitter
usenix conference policies
The Evolution of Global Traffic Routing and Failover
Abstract:
Traffic routing and failover strategies grow with the complexity of your service offering, and sometimes seemingly simple design choices of your services can dramatically impact what routing strategies you can use. Are all of your datacenters 100% identical, all data/services available everywhere? Do you have anything that requires affinity to a DC between multiple calls? What's the experience for an end user when you do shift traffic? Do you have a client app on the user's computer/phone that you can leverage to assist routing decisions or hide failovers? Or is the F5 key in the browser going to be how users recover? This really isn't a conversation that can be thorough with just 50 minutes, but we can hopefully give you insight into what you need to be thinking about by sharing some of the things we've learned running Bing.com for a while. 
Open Access Media
USENIX is committed to Open Access to the research presented at our events. Papers and proceedings are freely available to everyone once the event begins. Any video, audio, and/or slides that are posted after the event are also free and open to everyone. Support USENIX and our commitment to Open Access.
BibTeX
@conference {208578,
author = {Aaron Heady},
title = {The Evolution of Global Traffic Routing and Failover},
year = {2016},
address = {Santa Clara, CA},
publisher = {USENIX Association},
month = apr
}

Presentation Video
Presentation Audio