general information
Early Bird Registration Deadline: March 16, 2016

SREcon16 is SOLD OUT.
No walkup registrations will be accepted.
Venue:
Hyatt Regency Santa Clara
5101 Great America Pkwy
Santa Clara, CA 95054
Rooms at the Hyatt Regency Santa Clara are sold out.
Rooms available at:
Biltmore Hotel & Suites
2151 Laurelwood Road
Santa Clara, CA 95054

Book your room for $225 single or double plus tax or call (800) 255-9925 or (408) 988-8411 and reference USENIX Association or Billing ID #32992. Room rate includes WiFi and complimentary shuttle to the Hyatt Regency Santa Clara.
Questions?
About SREcon?
About the Call for Participation?
About the Hotel/Registration?
About Sponsorship?
help promote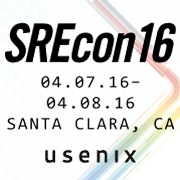 twitter
usenix conference policies
nrrd 911 ic me: The Incident Commander Role
Alice Goldfuss, New Relic
Abstract:
Shit hit the fan—now what?
You know to build resilient systems and make small, planned changes, but computers (and humans) still fail. How do you deal with such failures? How do you recover?
Enter the Incident Commander. Adapted from the government and military's incident response process, the Incident Commander handles the technical triage and orchestration necessary to get a swift resolution during crisis. The IC process focuses on clear communication, delegation, and trust between teams working in harmony.
New Relic has used the IC process for over two years, iterating and refining the process as we go. We train all our engineers to be ICs and have used this process to handle small deployment hiccups to network outages. We've built tools to support and archive our incident responses and have seen significant improvement in our understanding and response to such situations.
This talk will discuss the IC role, why you want it, how we iterated over it, lessons learned in the field, and the tools we built to support it.
Alice Goldfuss is a Site Reliability Engineer at New Relic, where she spends her days wading through containers, comforting servers, and performing dark sacrifices to the network tier. She's been a technical reviewer on Docker: Up & Running and Effective DevOps and bemused audiences on both sides of the pond. You can find her on Twitter (@alicegoldfuss), drinking tea, ranting about feminism, and trying to kidnap every cat she meets.
Open Access Media
USENIX is committed to Open Access to the research presented at our events. Papers and proceedings are freely available to everyone once the event begins. Any video, audio, and/or slides that are posted after the event are also free and open to everyone. Support USENIX and our commitment to Open Access.
Presentation Video
Presentation Audio
BibTeX
@conference {208618,
author = {Alice Goldfuss},
title = {nrrd 911 ic me: The Incident Commander Role},
year = {2016},
address = {Santa Clara, CA},
publisher = {{USENIX} Association},
}