general information
Early Bird Registration Deadline: March 16, 2016

SREcon16 is SOLD OUT.
No walkup registrations will be accepted.
Venue:
Hyatt Regency Santa Clara
5101 Great America Pkwy
Santa Clara, CA 95054
Rooms at the Hyatt Regency Santa Clara are sold out.
Rooms available at:
Biltmore Hotel & Suites
2151 Laurelwood Road
Santa Clara, CA 95054

Book your room for $225 single or double plus tax or call (800) 255-9925 or (408) 988-8411 and reference USENIX Association or Billing ID #32992. Room rate includes WiFi and complimentary shuttle to the Hyatt Regency Santa Clara.
Questions?
About SREcon?
About the Call for Participation?
About the Hotel/Registration?
About Sponsorship?
help promote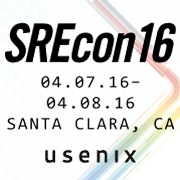 twitter
usenix conference policies
Running Consul at Scale—Journey from RFC to Production
Abstract:
We had many VMs in AWS - were ingesting millions of metrics per second - and were having pain around service discovery and quick configuration changes. This is the story of how we integrated Consul into our environment, what it helped us with, mistakes we made and some tips for successful implementation in your own environment. 10 months later, our growing cluster was using Consul to facilitate 60 second cluster-wide configuration changes and make service discovery simpler and more flexible.
Darron has been building things for the internet since the early 90s when he first discovered Mixmaster remailers and Usenet. In 2014, after running nonfiction studios for 12 years, he moved to Datadog to be a Site Reliability Engineer. Darron enjoys short build times, resilient infrastructure, clusters that keep their quorum, and breathing compressed gases underwater.
Open Access Media
USENIX is committed to Open Access to the research presented at our events. Papers and proceedings are freely available to everyone once the event begins. Any video, audio, and/or slides that are posted after the event are also free and open to everyone. Support USENIX and our commitment to Open Access.
BibTeX
@conference {208592,
author = {Darron Froese},
title = {Running Consul at {Scale{\textemdash}Journey} from {RFC} to Production},
year = {2016},
address = {Santa Clara, CA},
publisher = {USENIX Association},
month = apr
}

Presentation Video
Presentation Audio