general information
Early Bird Registration Deadline: March 16, 2016

SREcon16 is SOLD OUT.
No walkup registrations will be accepted.
Venue:
Hyatt Regency Santa Clara
5101 Great America Pkwy
Santa Clara, CA 95054
Rooms at the Hyatt Regency Santa Clara are sold out.
Rooms available at:
Biltmore Hotel & Suites
2151 Laurelwood Road
Santa Clara, CA 95054

Book your room for $225 single or double plus tax or call (800) 255-9925 or (408) 988-8411 and reference USENIX Association or Billing ID #32992. Room rate includes WiFi and complimentary shuttle to the Hyatt Regency Santa Clara.
Questions?
About SREcon?
About the Call for Participation?
About the Hotel/Registration?
About Sponsorship?
help promote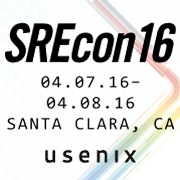 twitter
usenix conference policies
Monitoring the Unmeasureable
Abstract:
From system performance to application metrics, we continue to further our understanding of what to monitor, why, and how to present it appropriately to the various audiences who need to act on this information. Yet there are things across our environment that we agree we can't measure because they are unquantifiable. That doesn't mean that there is zero signal to be analyzed and monitored.
We can look at open source software that is in wide use, yet becomes stale and unusable after years due to the atrophy of maintainers keeping it up to date with security and integrations with other software, or implementation of new features that keep it useful. How do you measure the health of your current implemented software solutions so that you know when to start planning change, or committing intentional time to a project?
How do you know when the cost of Amazon's Relational Database Service is more costly than having in-house qualified DBAs?
How do you measure the value of sending your employees to one conference over another? How do you convey the value of going to one conference over another?
In this talk, I'll tackle these questions in addition to sharing other observations about monitoring within our environments with the goal of inspiring others to examine available signals, their impact, and the value of monitoring.
Open Access Media
USENIX is committed to Open Access to the research presented at our events. Papers and proceedings are freely available to everyone once the event begins. Any video, audio, and/or slides that are posted after the event are also free and open to everyone. Support USENIX and our commitment to Open Access.
BibTeX
@conference {208604,
author = {Jennifer Davis},
title = {Monitoring the Unmeasureable},
year = {2016},
address = {Santa Clara, CA},
publisher = {USENIX Association},
month = apr,
}

Presentation Video
Presentation Audio