general information
Early Bird Registration Deadline: March 16, 2016

SREcon16 is SOLD OUT.
No walkup registrations will be accepted.
Venue:
Hyatt Regency Santa Clara
5101 Great America Pkwy
Santa Clara, CA 95054
Rooms at the Hyatt Regency Santa Clara are sold out.
Rooms available at:
Biltmore Hotel & Suites
2151 Laurelwood Road
Santa Clara, CA 95054

Book your room for $225 single or double plus tax or call (800) 255-9925 or (408) 988-8411 and reference USENIX Association or Billing ID #32992. Room rate includes WiFi and complimentary shuttle to the Hyatt Regency Santa Clara.
Questions?
About SREcon?
About the Call for Participation?
About the Hotel/Registration?
About Sponsorship?
help promote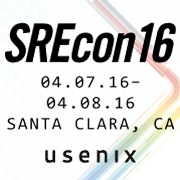 twitter
usenix conference policies
Don't Burn Out the Night
Dave Dash
Note: Due to technical difficulties, there is no audio or video of this talk.
Abstract:
It's easy for engineers to overcommit to things, especially with On Call. Let's build our On Call service that keeps people fresh and in it for the long haul.
In this session, Dave Dash will share lessons learned from Mozilla, Pinterest, and operations consulting on implementing a humane On Call service.
Dave Dash is a software engineer who loves developer tools. He currently builds tools for Summit Partners and assists with due diligence.
Prior to Summit, Dave did operations consulting for a number of startups. He was a founding member of the Pinterest Operations Team. He worked on the web team at Mozilla and worked on del.icio.us at Yahoo.
In his spare time he likes to read comic books, hike, and spend time with his wife and two kids.
Open Access Media
USENIX is committed to Open Access to the research presented at our events. Papers and proceedings are freely available to everyone once the event begins. Any video, audio, and/or slides that are posted after the event are also free and open to everyone. Support USENIX and our commitment to Open Access.
BibTeX
@conference {208616,
author = {Dave Dash},
title = {Don{\textquoteright}t Burn Out the Night},
year = {2016},
address = {Santa Clara, CA},
publisher = {USENIX Association},
month = apr,
}