general information
Early Bird Registration Deadline: March 16, 2016

SREcon16 is SOLD OUT.
No walkup registrations will be accepted.
Venue:
Hyatt Regency Santa Clara
5101 Great America Pkwy
Santa Clara, CA 95054
Rooms at the Hyatt Regency Santa Clara are sold out.
Rooms available at:
Biltmore Hotel & Suites
2151 Laurelwood Road
Santa Clara, CA 95054

Book your room for $225 single or double plus tax or call (800) 255-9925 or (408) 988-8411 and reference USENIX Association or Billing ID #32992. Room rate includes WiFi and complimentary shuttle to the Hyatt Regency Santa Clara.
Questions?
About SREcon?
About the Call for Participation?
About the Hotel/Registration?
About Sponsorship?
help promote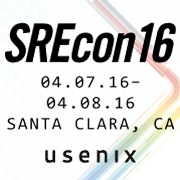 twitter
usenix conference policies
Continuous Deployment to Millions of Users 40 Times a Day
Abstract:
Instagram deploys code 40 times a day to its fleet of thousands of webservers and userbase of 400M monthly active users automatically when engineers land changes. This talk describes the iterative approach we took to building this system, the problems we faced along the way, the solutions we implemented, and the key principles which enable this to work. These principles include a reliable and fast test suite automatically run during code review and before and after landing; an automated canary to detect significant breakages before being widely deployed; good visibility of and stop mechanisms for the automation; good site monitoring and alarming; and a fast rollback mechanism.
Open Access Media
USENIX is committed to Open Access to the research presented at our events. Papers and proceedings are freely available to everyone once the event begins. Any video, audio, and/or slides that are posted after the event are also free and open to everyone. Support USENIX and our commitment to Open Access.
BibTeX
@conference {208615,
author = {Michael Gorven},
title = {Continuous Deployment to Millions of Users 40 Times a Day},
year = {2016},
address = {Santa Clara, CA},
publisher = {USENIX Association},
month = apr,
}

Presentation Video
Presentation Audio