general information
Early Bird Registration Deadline: March 16, 2016

SREcon16 is SOLD OUT.
No walkup registrations will be accepted.
Venue:
Hyatt Regency Santa Clara
5101 Great America Pkwy
Santa Clara, CA 95054
Rooms at the Hyatt Regency Santa Clara are sold out.
Rooms available at:
Biltmore Hotel & Suites
2151 Laurelwood Road
Santa Clara, CA 95054

Book your room for $225 single or double plus tax or call (800) 255-9925 or (408) 988-8411 and reference USENIX Association or Billing ID #32992. Room rate includes WiFi and complimentary shuttle to the Hyatt Regency Santa Clara.
Questions?
About SREcon?
About the Call for Participation?
About the Hotel/Registration?
About Sponsorship?
help promote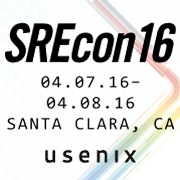 twitter
usenix conference policies
Service Levels and Error Budgets
Chris Jones and Niall Murphy, Google
Abstract:
100% is almost never the right reliability target for a service, and service level agreements (SLAs) aren't the right tool for SREs to manage a service. These two (apparent) heresies are fundamental to how Google SRE thinks about running large-scale distributed computing services: we set service level objectives (SLOs) expressing how reliable a service needs to be and manage our service to maximize product development and feature velocity within the agreed "error budget."
We'll discuss the differences between indicators, objectives, and agreements; error budgets in practice; and how this brings product managers, product developers, and SREs together in a spirit of peaceful coexistence and cooperation.
Chris Jones is a Site Reliability Engineer for Google App Engine, a cloud platform-as-a-service product serving over 28 billion requests per day. Based in San Francisco, he has previously been responsible for the care and feeding of Google's advertising statistics, data warehousing, and customer support systems. In other lives, Chris has worked in academic IT, analyzed data for political campaigns, and engaged in some light BSD kernel hacking, picking up degrees in Computer Engineering, Economics, and Technology Policy along the way. He's also a licensed professional engineer.
Niall Murphy leads the Ads Site Reliability Engineering team at Google Ireland. He has been involved in the Internet industry for about 20 years, and is currently chairperson of INEX, Ireland's peering hub. He is the author or co-author of a number of technical papers and/or books, including "Site Reliability Engineering" for O' Reilly, and a number of RFCs. He is currently co-writing a history of the Internet in Ireland, and he is the holder of degrees in Computer Science, Mathematics, and Poetry Studies, which is surely some kind of mistake. He lives in Dublin with his wife and two sons.
Open Access Media
USENIX is committed to Open Access to the research presented at our events. Papers and proceedings are freely available to everyone once the event begins. Any video, audio, and/or slides that are posted after the event are also free and open to everyone. Support USENIX and our commitment to Open Access.
BibTeX
@conference {208614,
author = {Chris Jones and Niall Murphy},
title = {Service Levels and Error Budgets},
year = {2016},
address = {Santa Clara, CA},
publisher = {USENIX Association},
month = apr
}

Presentation Video
Presentation Audio