general information
Early Bird Registration Deadline: March 16, 2016

SREcon16 is SOLD OUT.
No walkup registrations will be accepted.
Venue:
Hyatt Regency Santa Clara
5101 Great America Pkwy
Santa Clara, CA 95054
Rooms at the Hyatt Regency Santa Clara are sold out.
Rooms available at:
Biltmore Hotel & Suites
2151 Laurelwood Road
Santa Clara, CA 95054

Book your room for $225 single or double plus tax or call (800) 255-9925 or (408) 988-8411 and reference USENIX Association or Billing ID #32992. Room rate includes WiFi and complimentary shuttle to the Hyatt Regency Santa Clara.
Questions?
About SREcon?
About the Call for Participation?
About the Hotel/Registration?
About Sponsorship?
help promote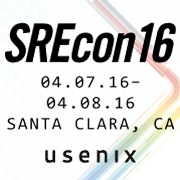 twitter
usenix conference policies
College Student to SRE: Onboarding Your Entry Level Talent
Michael Kehoe and Nina Mushiana, LinkedIn
Abstract:
Just over two years ago, I completed college, moved countries and started as a SRE at LinkedIn. Over those two years, I've gone from a Junior engineer to a Senior Engineer, however, I wouldn't have been able to do it without a great onboarding experience and the mentors that have guided me
This session will take the perspective of myself as a New College Graduate and Nina Mushiana (SRE manager) on how to onboard new SREs and help them reach their full potential. We will deep dive into onboarding, mentoring and training topics and reflect on lessons learnt over my two year experience. Finally I'll present advice for ELTs on how to become an important and successful part of their organization.
Michael Kehoe, Senior Site Reliability Engineer in the Production-SRE team, joined the LinkedIn operations team as a New College Graduate in January 2014. Prior to that, Michael studied Engineering at the University of Queensland (Australia) where he majored in Electrical Engineering. During his time studying, he interned at NASA Ames Research Center working on the PhoneSat project.
Nina Mushiana, has been an SRE Manager for Production-SRE and NOC team at Linkedin since May 2013. Prior to that, Nina was project managing Business Continuity Planning for Yahoo and Assistant manager for the Yahoo NOC. Nina has 14 years of operations experience.
Open Access Media
USENIX is committed to Open Access to the research presented at our events. Papers and proceedings are freely available to everyone once the event begins. Any video, audio, and/or slides that are posted after the event are also free and open to everyone. Support USENIX and our commitment to Open Access.
BibTeX
@conference {208617,
author = {Michael Kehoe and Nina Mushiana},
title = {College Student to {SRE}: Onboarding Your Entry Level Talent},
year = {2016},
address = {Santa Clara, CA},
publisher = {USENIX Association},
month = apr
}

Presentation Video
Presentation Audio