general information
Early Bird Registration Deadline: March 16, 2016

SREcon16 is SOLD OUT.
No walkup registrations will be accepted.
Venue:
Hyatt Regency Santa Clara
5101 Great America Pkwy
Santa Clara, CA 95054
Rooms at the Hyatt Regency Santa Clara are sold out.
Rooms available at:
Biltmore Hotel & Suites
2151 Laurelwood Road
Santa Clara, CA 95054

Book your room for $225 single or double plus tax or call (800) 255-9925 or (408) 988-8411 and reference USENIX Association or Billing ID #32992. Room rate includes WiFi and complimentary shuttle to the Hyatt Regency Santa Clara.
Questions?
About SREcon?
About the Call for Participation?
About the Hotel/Registration?
About Sponsorship?
help promote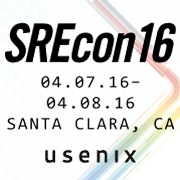 twitter
usenix conference policies
Transforming Tier 1 Caterpillars to Butterflies
Abstract:
One of the Linkedin's key cultural values is Career Transformation: Helping people you manage build new abilities and skills, work with them to define their career goals and support their efforts to accomplish them. Applying this to a Tier1 support team is challenging.
A Tier1 support manages the day-to-day operations of your business and engages higher tiers when needed. They end up with a very wide field of view but very little depth of knowledge. They are always the bearers of bad news and only noticed when something is broken. The morale of such teams is notoriously low. Furthermore, capitalizing on this experience for the business is a challenge because of retention issues stemming from low morale. This was LinkedIn in 2013.
Today, we have transformed our tier-1 into the foundation of our SRE organization as an incubator for our SREs. Our objective was to add depth to their breadth: they are part of the resolution instead of just passing on bad news, their work is more valued, and they have gained the trust of higher tiers. As a result, team morale is at an all time high. Investing in automation, training, and mentor-ship was the key to their transformation. This is LinkedIn today.
This session will discuss our roadblocks, leanings and achievements.
Nina Mushiana, SRE Manager for Production-SRE and NOC team at Linkedin since May 2013. Prior to that, Nina was project managing Business Continuity Planning for Yahoo and Assistant manager for the Yahoo NOC. Nina has 14 years of operations experience.
Open Access Media
USENIX is committed to Open Access to the research presented at our events. Papers and proceedings are freely available to everyone once the event begins. Any video, audio, and/or slides that are posted after the event are also free and open to everyone. Support USENIX and our commitment to Open Access.
BibTeX
@conference {208588,
author = {Nina Mushiana},
title = {Transforming Tier 1 Caterpillars to Butterflies},
year = {2016},
address = {Santa Clara, CA},
publisher = {USENIX Association},
month = apr
}

Presentation Video
Presentation Audio