general information
Early Bird Registration Deadline: March 16, 2016

SREcon16 is SOLD OUT.
No walkup registrations will be accepted.
Venue:
Hyatt Regency Santa Clara
5101 Great America Pkwy
Santa Clara, CA 95054
Rooms at the Hyatt Regency Santa Clara are sold out.
Rooms available at:
Biltmore Hotel & Suites
2151 Laurelwood Road
Santa Clara, CA 95054

Book your room for $225 single or double plus tax or call (800) 255-9925 or (408) 988-8411 and reference USENIX Association or Billing ID #32992. Room rate includes WiFi and complimentary shuttle to the Hyatt Regency Santa Clara.
Questions?
About SREcon?
About the Call for Participation?
About the Hotel/Registration?
About Sponsorship?
help promote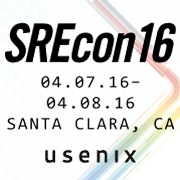 twitter
usenix conference policies
Debugging Distributed Systems
Abstract:
Despite our best efforts, our systems fail. Sometimes it's our fault - code that we wrote or bugs that we caused. But sometimes the fault is with systems that we rely on.
ZooKeeper is a very useful distributed system that is often used as a building block for other distributed systems, like Kafka and Spark. It is used by PagerDuty for many critical systems, and for five months it failed on us a lot.
We will walk through the process of finding and fixing one cause of many of these failures. You will learn how to use various tools to stress test the network, some intricate details of how ZooKeeper works, and possibly more than you wanted to know about TCP including an example of machines having a different view of the state of a TCP stream.
Donny Nadolny is a Scala developer at PagerDuty, working on improving the reliability of their backend systems. He spends a large amount of time investigating problems experienced with distributed systems like Cassandra and ZooKeeper.
Open Access Media
USENIX is committed to Open Access to the research presented at our events. Papers and proceedings are freely available to everyone once the event begins. Any video, audio, and/or slides that are posted after the event are also free and open to everyone. Support USENIX and our commitment to Open Access.
BibTeX
@conference {208606,
author = {Donny Nadolny},
title = {Debugging Distributed Systems},
year = {2016},
address = {Santa Clara, CA},
publisher = {USENIX Association},
month = apr
}

Presentation Video
Presentation Audio