general information
Early Bird Registration Deadline: March 16, 2016

SREcon16 is SOLD OUT.
No walkup registrations will be accepted.
Venue:
Hyatt Regency Santa Clara
5101 Great America Pkwy
Santa Clara, CA 95054
Rooms at the Hyatt Regency Santa Clara are sold out.
Rooms available at:
Biltmore Hotel & Suites
2151 Laurelwood Road
Santa Clara, CA 95054

Book your room for $225 single or double plus tax or call (800) 255-9925 or (408) 988-8411 and reference USENIX Association or Billing ID #32992. Room rate includes WiFi and complimentary shuttle to the Hyatt Regency Santa Clara.
Questions?
About SREcon?
About the Call for Participation?
About the Hotel/Registration?
About Sponsorship?
help promote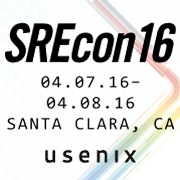 twitter
usenix conference policies
You are here
Home
»
Moving Large Workload from a Public Cloud to an OpenStack Private Cloud: Is It Really Worth It?
Moving Large Workload from a Public Cloud to an OpenStack Private Cloud: Is It Really Worth It?
Nicolas Brousse, TubeMogul
Abstract:
It can be easy to come up with a TCO analysis that would challenge any public cloud and make you think, "let's go in-house!" What are the challenges and is it really worth it? The TubeMogul Operation team went thru the technical challenges at building a private cloud. In this presentation you will learn how the team went from a R&D to an automated deployment of a bare-metal servers to finally migrate a large workload from a Public Cloud to its own Private Cloud infrastructure. We will detail how the team dealt with unexpected issues and also how we chose the hardware, estimated capacity, stay cost effective, improve overall performance of the system, and bring better control and visibility.
This talk will cover the technical detail of:
Evaluating OpenStack, Building and automating a CI environment for a mix of bare metal and cloud servers.
What are the network limitations of OpenStack and how we creatively leverage VLANs to handle large packet per seconds.
How to efficiently monitor your cloud infrastructure
Find quickly your bottlenecks
What we missed and should be consider before moving in house
Lesson Learned and Post Cost Analysis
Nicolas Brousse is Senior Director of Operations Engineering at TubeMogul(NASDAQ: TUBE). The company's sixth employee and first operations hire, Nicolas has grown TubeMogul's infrastructure over the past seven years from several machines to over two thousand servers that handle billions of requests per day for clients like Allstate, Chrysler, Heineken and Hotels.com.
Adept at adapting quickly to ongoing business needs and constraints, Nicolas leads a global team of site reliability engineers and database architects that monitor TubeMogul's infrastructure 24/7 and adhere to "DevOps" methodology. Nicolas is a frequent speaker at top U.S. technology conferences and regularly gives advice to other operations engineers. Prior to relocating to the U.S. to join TubeMogul, Nicolas worked in technology for over 15 years, managing heavy traffic and large user databases for companies like MultiMania, Lycos and Kewego. Nicolas lives in Richmond, CA, and is an avid fisherman and aspiring cowboy.
Open Access Media
USENIX is committed to Open Access to the research presented at our events. Papers and proceedings are freely available to everyone once the event begins. Any video, audio, and/or slides that are posted after the event are also free and open to everyone. Support USENIX and our commitment to Open Access.
BibTeX
@conference {208580,
author = {Nicolas Brousse},
title = {Moving Large Workload from a Public Cloud to an {OpenStack} Private Cloud: Is It Really Worth It?},
year = {2016},
address = {Santa Clara, CA},
publisher = {USENIX Association},
month = apr,
}

Presentation Video
Presentation Audio