help promote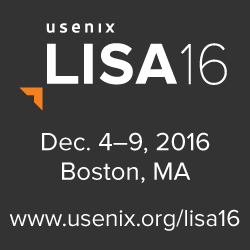 Get more
Help Promote graphics!
usenix conference policies
twitter
Chris "Mac" McEniry
Website Maintenance Alert
Due to scheduled maintenance on Wednesday, October 16, from 10:30 am to 4:30 pm Pacific Daylight Time (UTC -7), parts of the USENIX website (e.g., conference registration, user account changes) may not be available. We apologize for the inconvenience.
If you are trying to register for LISA19, please complete your registration before or after this time period.
Chris "Mac" McEniry is a practicing sysadmin responsible for running a large ecommerce and gaming service. He's been working and developing in an operational capacity for 15 years. In his free time, he builds tools and thinks about efficiency.