help promote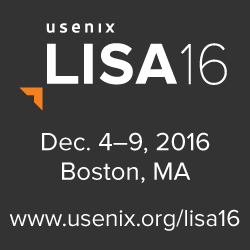 Get more
Help Promote graphics!
usenix conference policies
twitter
Workshop 8: Lean IT
Monday, November 9, 2015 -

1:30pm

-

5:00pm
Jefferson
Chris "Mac" McEniry, Sony Network Entertainment
Abstract:
The LISA15 Lean IT Workshop is a gathering place for system administrators, operators, and developers to talk about the impact of Lean Manufacturing on IT practices. This half-day workshop is a discussion of the IT Manufacturing Plant analogy, approaches to applying methods therein, and success stories and lessons learned from attempts at those approaches. Attendees should be experienced individual contributors and managers who have examined some of the existing Lean literature. Attendees are expected to present or discuss on their experiences with this topic.
Chris "Mac" McEniry is a practicing sysadmin responsible for running a large ecommerce and gaming service. He's been working and developing in an operational capacity for 15 years. In his free time, he builds tools and thinks about efficiency.
BibTeX
@conference {208678,
author = {Chris "Mac" McEniry},
title = {Workshop 8: Lean {IT}},
year = {2015},
address = {Washington, D.C.},
publisher = {USENIX Association},
month = nov,
}