help promote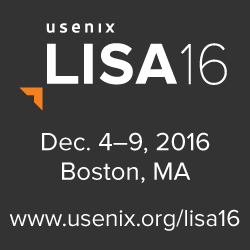 Get more
Help Promote graphics!
usenix conference policies
twitter
Services
Internet Access/Wireless Network
USENIX is pleased to offer free wireless Internet access for LISA15 attendees. The network will be open and insecure, so attendees are encouraged to use encryption. Support of the network is provided by the hotel and LISA Build. From your device, connect to either of these networks:
Hotel network SSID: "Marriott Conference"; conference code: "USENIX"
LISA15 Build network SSID: "usenix-build"
Computers provided for registration may be used for general Internet access after 9:00 am and before 4:00 pm daily. A printer is available in the registration area and can be used via the registration computers or via the IP address listed on the front.
For network assistance please visit the USENIX registration desk.
The wireless network provided at this conference is for the use of conference attendees only, subject to the following conditions:
The network may be monitored.
Any illicit or intrusive use of the network, including packet sniffing, is expressly forbidden.
The wireless network is open and insecure. USENIX strongly recommends that all users encrypt their transmissions. Users are solely responsible for the security of their passwords and data.
If you have any questions or concerns about the use of the wireless network, please contact any USENIX staff or Board member immediately.
LISA15 Mobile App
Download the Guidebook App from the Apple App Store or Google Play, or visit http://guidebookapp.com/getit from your phone's browser.
To download the LISA15 event guide, open the Guidebook app and search for "LISA15."
Power Outlets
Power strips will be available in the Tutorial and select Conference Program rooms on a first-come, first-served basis.
Bulletin Boards/Vendor Materials
Bulletin boards in the registration area hold messages for attendees, the latest schedule of Birds-of-a-Feather (BoF) sessions, and postings of job opportunities. You can pick up information on products, services, and special offers from the literature tables in the registration area.
LISA15 Conference Program Videos
In keeping with the USENIX Open Access Policy, videos of select Conference Program sessions will be available to everyone shortly after they happen.
The LISA15 Meal Board
Sunday–Wednesday
Looking to meet other attendees while enjoying a good meal? Simply write your name and the restaurant you'd like to go to on the meal board in the registration area. Meet back at the board to join your chosen group and then head out for conversation, food, and drinks.
Badge Ribbons
Looking for a job? Currently hiring? Want to simply customize your badge? Stop by the registration area and pick up a ribbon to attach to your badge to communicate with other attendees without saying a word.
Name Badge Recycling
Please join us in being green by recycling your name badge at the USENIX registration desk when you depart.