help promote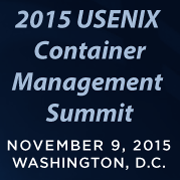 Get more
Help Promote graphics!
twitter
usenix conference policies
Overview
Website Maintenance Alert
Due to scheduled maintenance on Wednesday, October 16, from 10:30 am to 4:30 pm Pacific Daylight Time (UTC -7), parts of the USENIX website (e.g., conference registration, user account changes) may not be available. We apologize for the inconvenience.
If you are trying to register for LISA19, please complete your registration before or after this time period.
Thanks to for joining us in Washington, D.C., for the 2015 USENIX Container Management Summit (UCMS '15). We hope you enjoyed the event. The daylong program included an unconference session as well as six invited talks which addressed the current challenges and concerns of working with containers, including deployment, networking, and security. As part of our commitment to open access to research, the presentation slides are free and open to the public on the Summit Program page.
UCMS '15 took place on Monday, November 9, during LISA15, November 8–13, 2015, in Washington, D.C.
Summit Organizers