help promote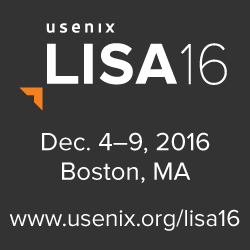 Get more
Help Promote graphics!
usenix conference policies
twitter
Overview
LISA: Where systems engineering and operations professionals share real-world knowledge about designing, building, and maintaining the critical systems of our interconnected world.

The LISA conference has long served as the annual vendor-neutral meeting place for the wider system administration community. The LISA15 program addressed the overlap and differences between traditional and modern IT operations and engineering, and offers a highly-curated program around four key topics: Culture, Monitoring & Metrics, SRE & Software Engineering, and Systems & Network Engineering. The six-day program included 23 half- and full-day Training Sessions; 12 Workshops; and over 60 Invited Talks, Refereed Paper Presentations, and Mini-Tutorials, all included in the Conference Program.
Featured Speakers
Thanks for joining us in Washington, D.C. for LISA15!
Save the Date:
LISA16
December 4-9, 2016
Boston, MA
Conference Organizers
Program Co-Chairs
Cory Lueninghoener, Los Alamos National Laboratory
Amy Rich, Mozilla Corporation
Academic Co-Chairs
Paul Anderson, University of Edinburgh
Marc Chiarini, MarkLogic Corporation
Invited Talks Co-Chairs
Doug Hughes, D. E. Shaw Research, LLC.
Lightning Talks Coordinator
Lee Damon, University of Washington
Workshops Chair
Lee Damon, University of Washington
Content Recruitment Team
Jonathon Anderson, University of Colorado, Boulder
Patrick T. Cable, MIT Lincoln Laboratory
Selena Deckleman, Mozilla Corporation
Matt Disney, Oak Ridge National Laboratory
Tom Limoncelli, Stack Overflow
Chris St. Pierre, Cisco Systems, Inc.
LISA Lab Co-Chairs
Tony Del Porto, Cisco Systems, Inc.
Andrew Mundy, National Institute of Standards and Technology
LISA Build Coordinators
Branson Matheson, sandSecurity
Brett Thorson, Cranial Thunder Solutions
USENIX Liaisons
David N. Blank-Edelman, Apcera
Carolyn Rowland, National Institute of Standards and Technology (NIST)
USENIX Tutorials Staff
Natalie DeJarlais, USENIX Association
Rik Farrow, USENIX Association