help promote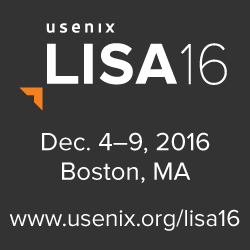 Get more
Help Promote graphics!
usenix conference policies
twitter
Puppet Camp D.C.
Sponsored by Puppet Labs
Tuesday, November 10, 2015, 9:00 am–5:00 pm, Lincoln 5

Join Puppet Labs on their second trip to D.C. this year, as they put on a hybrid of a Puppet Camp and an Intro to Puppet.
In the AM, they will follow a Puppet Camp format where you will have the opportunity to talk to a diverse group of Puppet users, benefit from presentations delivered by prominent community members, share experiences, and discuss potential implementations of Puppet with your peers.
In the PM, they'll run an Intro crash course where you'll learn how Puppet Enterprise can help you solve the problems you face managing your infrastructure. We'll show you the core concepts of the Puppet DSL and the components that constitute Puppet Enterprise, plus several real-world examples and live demos.
Attend this camp to learn new ways to use Puppet and related technologies with ideas you can immediately implement. Completely new to Puppet? Puppet is IT automation software that helps system administrators manage infrastructure throughout its lifecycle, from provisioning and configuration to orchestration and reporting. Learn more at PuppetLabs.com.
Puppet Camp D.C. will be co-located with LISA15 at the Washington Marriott Wardman Park in Washington, D.C., and will take place on Tuesday, November 10 in Lincoln 5.
There are sponsorship slots available. Learn more about sponsoring Puppet Camp.
Agenda
9:00 am–9:30 am: Check-In / Registration
9:30 am–10:30 am: Puppet Keynote—Greg Sarjeant
10:30 am–11:15 am: TBD
11:15 am–11:30 am: Break
11:30 am–12:15 pm: Introduction to SIMP—An Open Source Infrastructure for Flexible Policy Compliance—Trevor Vaughan, Onyx Point
12:15 pm–1:15 pm: Lunch (provided by Puppet Labs)
1:15 pm–3:00 pm: Intro to Puppet Part 1—Greg Sarjeant
3:00 pm–3:15 pm: Break
3:15 pm–4:30 pm: Intro to Puppet Part 2—Greg Sarjeant
4:30 pm–6:00 pm: Reception—join Puppet Labs and fellow attendees for a quick drink—on Puppet! Location TBD
Cost and Registration
Admission is free for LISA15 attendees, but pre-registration is required! Register first for LISA15, and in your confirmation email, you will receive a coupon code that you can apply on the Puppet Camp D.C. registration site for the price of admission.
Discounted Registration for LISA15
Not only is Puppet Camp free for LISA15 attendees, by registering for both Puppet Camp D.C. and LISA15, you will also receive a $50 discount on the LISA15 Conference Pass (valid for all talks, mini-tutorials, meals, and evening events taking place from Wednesday, November 11 through Friday, November 13). Use Discount Code: LISA15PUPPETDC during your LISA registration.