help promote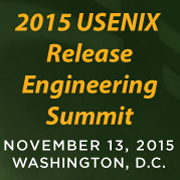 Get more
Help Promote graphics!
twitter
usenix conference policies
Overview
Thanks for joining us in Washington, D.C., for the 2015 USENIX Release Engineering Summit (URES '15). The daylong program included these Invited Talks:
"Scaling Mobile Testing on AWS: Emulators All the Way Down" from Kim Moir, Mozilla Corporation
"How I Learned to Stop Worrying and Love Push-On-Submit" from Sam Mussmann, Google
"Pivotal Cloud Foundry Release Engineering: Moving Integration Upstream Where It Belongs" from Evan Willey and Dave Liebreich, Pivotal
"Chaos Patterns—Architecting for Failure in Distributed Systems" from Jos Boumans, Krux
"Managing Project Migrations at Scale" from Dinah McNutt, Google
plus lightning talks from Akshat Sharma, Cisco Systems, Inc.; Kim Moir, Mozilla Corporation; Jim Buffenbarger, Boise State University; Sarah Elkins, SRA International; Brian Colfer, Apple Inc.; and Lukas Blakk, Pinterest.
URES '15 took place on Friday, November 13, during LISA15, in Washington, D.C.