help promote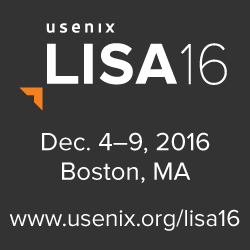 Get more
Help Promote graphics!
usenix conference policies
twitter
About
Website Maintenance Alert
Due to scheduled maintenance, the USENIX website will not be available on Tuesday, December 17, from 10:00 am to 2:00 pm Pacific Daylight Time (UTC -7). We apologize for the inconvenience.
If you are trying to register for Enigma 2020, please complete your registration before or after this time period.
USENIX's LISA conference is the premier meeting place for professionals who make computing work efficiently across a variety of industries. If you're an IT operations professional, site-reliability engineer, system administrator, architect, software engineer, researcher, or otherwise involved in ensuring that IT services are effectively delivered to others—this is your conference, and we'd love to have you here.
The program will include invited talks, workshops, panels, half-, and full-day training courses, mini-tutorials, and refereed paper and poster presentations. The on-site LISA Lab will give attendees and speakers the opportunity to demo, collaborate, and test out new ideas, while LISA Build will provide hands-on guidance to building and scaling a network. Evening receptions and Birds-of-a-Feather sessions provide opportunities to meet and network with those who share your interests.