help promote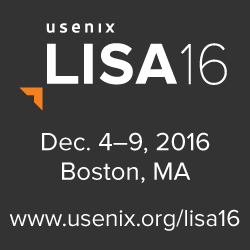 Get more
Help Promote graphics!
twitter
usenix conference policies
Go for Sysadmins
Description:
Every day, sysadmins find the need to build tools that get the job done in a fast and efficient way. Go is a new and powerful—yet simple—language that is an excellent fit for the needs of the harried sysadmin. This tutorial provides an introduction to Go with a focus on using it for everday tooling.
Who should attend:
Sysadmins interested in the Go language for applications and tooling. Some experience with programming or scripting languages such as Perl, Python, or Ruby.
Take back to work:
An introductory understanding of the Go language, and several examples of common problems to learn from.
Topics include:
Understanding of the applicability of Go to everyday work
The Go environment and toolset
Go language fundamentals:
Control Structures
Functions
Data Types
Methods and Interfaces
Goroutines
Channels
Examples in Go:
Email
Web Server
Directory Tools
Additional Materials:
A current Linux VM installed with golang from is recommended. See http://golang.org/doc/install. However, exercises can be worked on by using the packages from this site directly.