help promote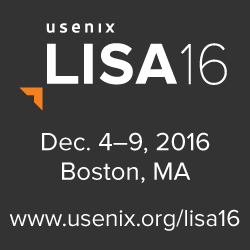 Get more
Help Promote graphics!
usenix conference policies
twitter
Scalable Online Analytics for Monitoring
Friday, November 13, 2015 -

11:45am

-

12:30pm
Heinrich Hartmann, Circonus
Abstract:
Monitoring systems will get smarter in order to keep up with the demands of tomorrow's IT architectures. Features like anomaly detection, root cause analysis, and forecasting tools will be critical components of this next level of monitoring. At the same time, the data that monitoring systems ingest is ever increasing in amount and velocity.

This session covers architectural models for advanced online analytics. We argue that stateful online computations provide a means to realize machine learning on high-velocity data. We show how alerting systems, event engines, stream aggregators, and time-series databases interact to support smart, scalable, and resilient monitoring solutions.
Heinrich Hartmann is the Chief Data Scientist at Circonus. He is driving the development of analytics methods that transform monitoring data into actionable information as part of the Circonus monitoring platform. In his prior life, Heinrich pursued an academic career as a mathematician (PhD in Bonn, Oxford). Later he transitioned into computer science and worked as consultant for a number of different companies and research institutions.
Open Access Media
USENIX is committed to Open Access to the research presented at our events. Papers and proceedings are freely available to everyone once the event begins. Any video, audio, and/or slides that are posted after the event are also free and open to everyone. Support USENIX and our commitment to Open Access.
BibTeX
@conference {208722,
author = {Heinrich Hartmann},
title = {Scalable Online Analytics for Monitoring},
year = {2015},
address = {Washington, D.C.},
publisher = {USENIX Association},
month = nov
}

Presentation Video
Presentation Audio