help promote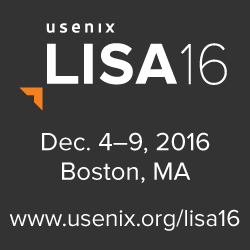 Get more
Help Promote graphics!
usenix conference policies
twitter
Automation at the Network Layer
Thursday, November 12, 2015 -

4:00pm

-

4:45pm
Scott Garman and Rick Sherman, Puppet Labs
Abstract:
Configuration Management tools have been primarily focused on server and application domains, but IT infrastructure includes more than just servers. Networking infrastructure has become increasingly complex and featureful, and managing the configuration of network devices has come under increased demands for higher velocity and consistency.

This talk will give an overview of the NetDev API, which was developed at Puppet Labs in collaboration with enterprise network vendors. It will demonstrate the power of the Puppet NetDev module ecosystem to maintain the same networking configuration across multiple devices and vendors, bringing network configuration management into the same "Infrastructure as Code" paradigm that the DevOps movement advocates.
Scott Garman is a Senior Engineer at Puppet Labs focused on using Puppet to manage enterprise network infrastructure. He has previous experience as an embedded Linux developer and technical evangelist at Intel's Open Source Technology Center, and has presented at many conferences and events, including the Linux Foundation's LinuxCon and Embedded Linux Conferences, LinuxFest Northwest, Open Source Bridge, and local user group events in his hometown of Portland, Oregon.
Rick Sherman (Shermdog) is a Senior Engineer at Puppet Labs driving the expansion of Network Platforms and Services. Prior to joining Puppet Labs he worked at Juniper Networks supporting Identity and Policy management, and providing automation frameworks for network engineers. Rick is passionate about bridging the DevOps gap in networking and moving the industry forward. Based in St. Louis, he prefers to communicate via animated gifs and movie-related memes.
Open Access Media
USENIX is committed to Open Access to the research presented at our events. Papers and proceedings are freely available to everyone once the event begins. Any video, audio, and/or slides that are posted after the event are also free and open to everyone. Support USENIX and our commitment to Open Access.
BibTeX
@conference {208728,
author = {Scott Garman and Rick Sherman},
title = {Automation at the Network Layer},
year = {2015},
address = {Washington, D.C.},
publisher = {USENIX Association},
month = nov,
}

Presentation Video
Presentation Audio