help promote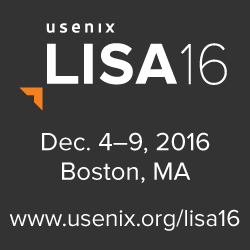 Get more
Help Promote graphics!
usenix conference policies
twitter
It Was Never Going to Work, So Let's Have Some Tea (Presentation)
Friday, November 13, 2015 -

4:00pm

-

5:00pm
James Mickens, Harvard University
Thurgood Marshall Ballroom
Abstract:
It's difficult to administer large systems. In this talk, Mickens will argue that we should just give up. Instead of asking large systems to do anything at all, we should focus on less quixotic goals like turning lead into gold, or stopping Pokémon from having delightfully idiosyncratic magic abilities. Using case studies involving popular systems for version control and automatic OS updates, James Mickens will gradually make himself more and more depressed, and then he will tearfully answer questions in a way that makes everybody feel awkward. Mickens will then sign copies of his book. Note that Mickens has not written a book.
Note: The video of the presentation is available on this page. Go to the Q&A page to watch that portion of the presentation.
James Mickens is a struggling computer scientist who is actively trying to become better at life. James Mickens has never won a Turing Award, a Fields Medal, or a game of Scrabble. His recent attempt to get Ubuntu to recognize his wireless card led to an unprecedented sequence of 73 kernel panics followed by what the Seattle fire department described as "the instant sublimation of his wi-fi card into molten, vengeful hate." James Mickens is unmarried and likely to stay that way. His acoustic guitar currently has six broken strings, and it is well-known that you need at least one string to play the blues.
Open Access Media
USENIX is committed to Open Access to the research presented at our events. Papers and proceedings are freely available to everyone once the event begins. Any video, audio, and/or slides that are posted after the event are also free and open to everyone. Support USENIX and our commitment to Open Access.
BibTeX
@conference {208760,
author = {James Mickens},
title = {It Was Never Going to Work, So {Let{\textquoteright}s} Have Some Tea (Presentation)},
year = {2015},
address = {Washington, D.C.},
publisher = {USENIX Association},
month = nov
}

Presentation Video
Presentation Audio