help promote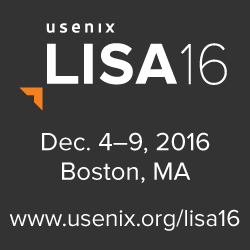 Get more
Help Promote graphics!
usenix conference policies
twitter
DevOps Adoption Patterns and Anti-Patterns
Friday, November 13, 2015 -

2:00pm

-

2:45pm
Geoff Halprin, The SysAdmin Group
Abstract:
Everyone is talking about DevOps. CIOs drop it casually into conversation as though they grok its true meaning, claim they are embracing it, and yet make none of the changes to the organization's structure or culture that it requires. Enterprises continue to put their faith in ITIL and the silos of enterprise responsibility. The developers want Continuous Delivery but they don't want the 2am calls. DevOps is being abused the same way Agile has been by the enterprise.

In this talk I will look at the enterprise setting, the challenges facing adoption, and how DevOps practices can be introduced. I will also describe seven adoption patterns and an anti-pattern.
Geoff has over 25 years experience in the IT industry, in roles including developer, Head of Development, system administrator, system architect, troubleshooter, Principal Consultant, Director of Network Operations, and CIO. Most recently, he has been working in a large Telco facing the problems of DevOps adoption first hand. In his spare time he drinks a lot of whisky. There may be a correlation.
Open Access Media
USENIX is committed to Open Access to the research presented at our events. Papers and proceedings are freely available to everyone once the event begins. Any video, audio, and/or slides that are posted after the event are also free and open to everyone. Support USENIX and our commitment to Open Access.
BibTeX
@conference {208715,
author = {Geoff Halprin},
title = {{DevOps} Adoption Patterns and {Anti-Patterns}},
year = {2015},
address = {Washington, D.C.},
publisher = {USENIX Association},
month = nov
}

Presentation Video
Presentation Audio