help promote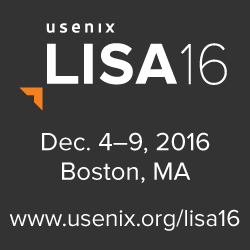 Get more
Help Promote graphics!
usenix conference policies
twitter
Scalable Meatfrastructure: Building Stable DevOps Teams
Wednesday, November 11, 2015 -

2:00pm

-

2:45pm
Alice Goldfuss, New Relic
Abstract:
When we think of scalable infrastructure, we think of technologies such as AWS, Kafka, or Mesos. But to operate these shiny things, you need people. Organized and resilient people.

You wouldn't rollout containerization while your app has a memory leak, so you shouldn't expand your DevOps team without addressing the leaks in your day-to-day communication and processes. Come learn some of the steps necessary to make your most important platform--your engineers--stable and successful.
Alice Goldfuss is a Site Reliability Engineer at New Relic, where she spends her days wading through containers, comforting servers, and performing dark sacrifices to the network tier. You can find her on Twitter (@alicegoldfuss) ranting about feminism and posting pictures of spiders.
Open Access Media
USENIX is committed to Open Access to the research presented at our events. Papers and proceedings are freely available to everyone once the event begins. Any video, audio, and/or slides that are posted after the event are also free and open to everyone. Support USENIX and our commitment to Open Access.
BibTeX
@conference {208751,
author = {Alice Goldfuss},
title = {Scalable Meatfrastructure: Building Stable {DevOps} Teams},
year = {2015},
address = {Washington, D.C.},
publisher = {USENIX Association},
month = nov
}

Presentation Video
Presentation Audio