help promote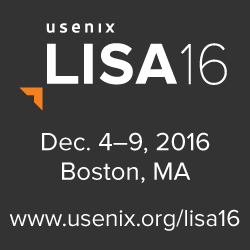 Get more
Help Promote graphics!
usenix conference policies
twitter
Thirty Billion Metrics a Day: Large-Scale Performance Metrics with Ganglia
Thursday, November 12, 2015 -

2:00pm

-

2:45pm
Abstract:
At Quantcast, we use Ganglia to track upwards of thirty billion individual metric samples each day across more than five million unique time series. We use this data in every aspect of the business, from monitoring and alerting, to capacity planning, to troubleshooting and root cause analysis. In the talk I'll explain how we got here, how we manage this data, and how we plan to continue scaling our performance metrics infrastructure as the business grows.
Adam has been in the system administration field for over a decade, and worked with a wide variety of software and services in various industries. He, along with others at Quantcast, contributed a white paper to the Ganglia project's O'Reilly book. He is particularly interested in the areas of configuration management and systems automation, such as building robust, self-healing and self-managing systems. He also knows some great card tricks.
Open Access Media
USENIX is committed to Open Access to the research presented at our events. Papers and proceedings are freely available to everyone once the event begins. Any video, audio, and/or slides that are posted after the event are also free and open to everyone. Support USENIX and our commitment to Open Access.
BibTeX
@conference {208734,
author = {Adam Compton},
title = {Thirty Billion Metrics a Day: {Large-Scale} Performance Metrics with Ganglia},
year = {2015},
address = {Washington, D.C.},
publisher = {USENIX Association},
month = nov,
}

Presentation Video
Presentation Audio