help promote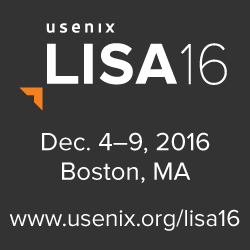 Get more
Help Promote graphics!
usenix conference policies
Is Your Team Instrument Rated? (Or Deploying 89,000 Times per Day)
Friday, November 14, 2014 -

2:45pm

-

3:30pm
J. Paul Reed, Release Engineering Approaches
Abstract:
As DevOps matures from craft, through trade, to a science, we are starting to work on distilling out how we can make DevOps' implementation and the organizational transformation repeatable and predictable, across all kinds of environments. As part of that search, it is time to start looking at humanity's other ""operational"" endeavors and see what is applicable to DevOps.
This talk examines one of the largest operational systems built to date: the national airspace system. We will look at specific aspects of how controllers (operations teams) work with pilots (developers) to safely move millions of passengers (customers) every year, with an incident rate that would make any development shop jealous.
J. Paul Reed has over a decade of experience in the trenches as a build/release and tools engineer, working with such organizations as VMware, Mozilla, and Symantec. In 2012, he founded Release Engineering Approaches, a consultancy incorporating a host of tools and techniques to help organizations "Simply Ship. Every time." He's been able to work across a number of industries, from financial services to cloud-based infrastructure, with teams from 2 to 200. Paul is also a founding host of The Ship Show, a twice-monthly podcast tackling topics related to build engineering, DevOps, and release management.
Open Access Media
USENIX is committed to Open Access to the research presented at our events. Papers and proceedings are freely available to everyone once the event begins. Any video, audio, and/or slides that are posted after the event are also free and open to everyone. Support USENIX and our commitment to Open Access.
BibTeX
@conference {209064,
author = {J. Paul Reed},
title = {Is Your Team Instrument Rated? (Or Deploying 89,000 Times per Day)},
year = {2014},
address = {Seattle, WA},
publisher = {USENIX Association},
month = nov
}

Presentation Video
Presentation Audio