help promote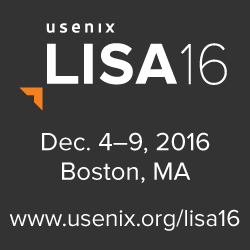 Get more
Help Promote graphics!
usenix conference policies
Radical Ideas from the Practice of Cloud Computing
Wednesday, November 12, 2014 -

11:45am

-

12:30pm
Thomas A. Limoncelli, Stack Exchange, Inc.
Abstract:
Tom will highlight some of the most radical ideas from the new book "The Practice of Cloud System Administration". Topics will include: Most people use load balancers wrong; you should randomly power off machines; cloud computing will eventually be so inexpensive you won't be able to justify running your own hardware, the most highly reliable systems are built on cheap hardware that breaks a lot, and sysadmins should never say no to installing new releases from developers. And many more!
Thomas A. Limoncelli is an internationally recognized author, speaker, and system administrator. His best known books include Time Management for System Administrators (OReilly) and The Practice of System and Network Administration (Addison-Wesley). He works in New York City at Stack Exchange, home of ServerFault.com and StackOverflow.com. Previously he's worked at small and large companies including Google and Bell Labs. http://EverythingSysadmin.com is his blog. His new book, "The Practice of Cloud System Administration" has just been released.
Open Access Media
USENIX is committed to Open Access to the research presented at our events. Papers and proceedings are freely available to everyone once the event begins. Any video, audio, and/or slides that are posted after the event are also free and open to everyone. Support USENIX and our commitment to Open Access.
BibTeX
@conference {209031,
author = {Thomas A. Limoncelli},
title = {Radical Ideas from the Practice of Cloud Computing},
year = {2014},
address = {Seattle, WA},
publisher = {USENIX Association},
month = nov
}

Presentation Video
Presentation Audio