help promote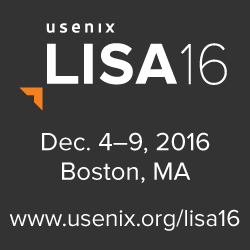 Get more
Help Promote graphics!
usenix conference policies
Thomas A. Limoncelli
Thomas A. Limoncelli is an internationally recognized author, speaker, and system administrator. His best known books include Time Management for System Administrators (OReilly) and The Practice of System and Network Administration (Addison-Wesley). He works in New York City at Stack Exchange, home of ServerFault.com and StackOverflow.com. Previously he's worked at small and large companies including Google and Bell Labs. http://EverythingSysadmin.com is his blog. His new book, "The Practice of Cloud System Administration" has just been released.