help promote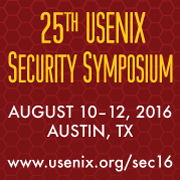 Get more
Help Promote graphics!
twitter
usenix conference policies
Towards Discovering and Understanding Task Hijacking in Android
Authors:
Chuangang Ren, The Pennsylvania State University; Yulong Zhang, Hui Xue, and Tao Wei, FireEye, Inc.; Peng Liu, The Pennsylvania State University
Abstract:
Android multitasking provides rich features to enhance user experience and offers great flexibility for app developers to promote app personalization. However, the security implication of Android multitasking remains under-investigated. With a systematic study of the complex tasks dynamics, we find design flaws of Android multitasking which make all recent versions of Android vulnerable to task hijacking attacks. We demonstrate proof-of-concept examples utilizing the task hijacking attack surface to implement UI spoofing, denialof- service and user monitoring attacks. Attackers may steal login credentials, implement ransomware and spy on user's activities. We have collected and analyzed over 6.8 million apps from various Android markets. Our analysis shows that the task hijacking risk is prevalent. Since many apps depend on the current multitasking design, defeating task hijacking is not easy. We have notified the Android team about these issues and we discuss possible mitigation techniques in this paper.
Open Access Media
USENIX is committed to Open Access to the research presented at our events. Papers and proceedings are freely available to everyone once the event begins. Any video, audio, and/or slides that are posted after the event are also free and open to everyone. Support USENIX and our commitment to Open Access.
Presentation Video
Presentation Audio
Open access to the USENIX Security '15 videos sponsored by Symantec.